Schwinn | Trek | Raleigh | Bianchi | Peugeot | Motobecane | Roold | Nishiki | Fuji | Kuwahara | Giant | Univega

Schwinn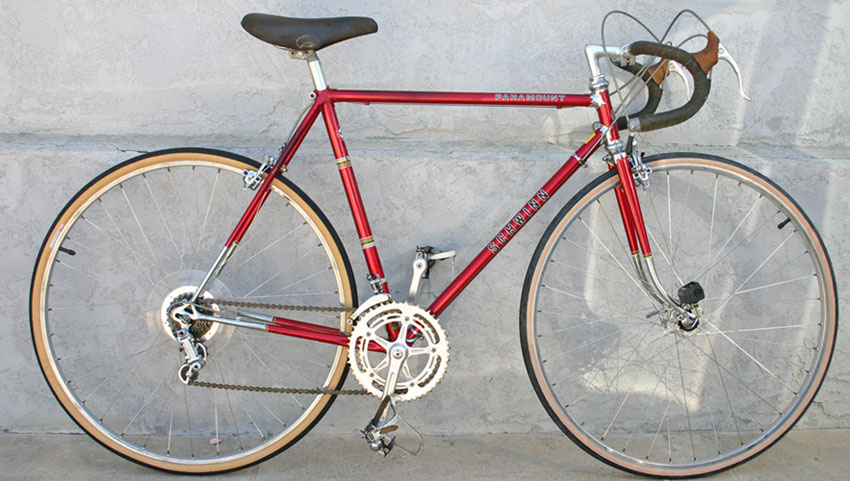 1977 Schwinn Paramount. (Larger Image) The name says it all - the top of the Schwinn line. Waterfordbikes.com has an excellent discussion of the history of Paramount bikes from their start in 1938 until the bankruptcy in 1993 of the original Schwinn company founded in 1895. (See Schwinn Timeline.) Schwinn today is part of Pacific Cycle. While Schwinn often had a reputation for building heavy bikes for kids, the Paramount line had a reputation for finely crafted, relatively light road bikes. I purchased my Paramount in the North Park area of San Diego on June 30, 2007 from an ad on Craig's List for $50 with a Nishiki Olympic mixte frame 12 speed bike. That is obviously a great price. The very nice woman selling it was good natured about the low price. The bike had belonged to her uncle who no longer used it. I believe the frame was built in 1977. (See Paramont Serial Numbers at Waterford Bikes - go to "Dating My Bike.") It appears to be a P10-9 Men's Paramount Deluxe Ten Speed Tourer according to the 1977 Schwinn Super-Lite Catalog. The same site has the original price list. There is a larger photo in the 1977 Consumer Catalog. The wonderful Bob Hufford Schwinn Lightweight Data Book Site has many more Schwinn catalogs. I like the 1974 and earlier catalogs where they took photos on location. The fashions are a hoot! See, for example 1974 Paramount and 1973 Paramount. The bike has Reynolds 531 tubing on all parts of the frame and fork. The rims are Weinmann alloy 27" x 1.25" made in Belgium. Other components including the hubs, derailleurs, bar end shifters, crankset, dropouts, seat post, and brakes are all Italian Campagnolo, perhaps the most prestigious name in cycling components. Campagnolo will celebrate their 75th anniversary in 2008. (See Campagnolo History.) The head tube lugs are chromed, which was apparently an extra option. Racers did not use chromed lugs since they added weight, but they give the bike an eloquent touch. The seat tube height is 22 inches and seems to fit me well. The bike was in generally good condition. I had to replace the front tire and tube and adjust the handle bars and seat. I gave it a good cleaning and sprayed Tri-Flow lubricant on the chain and other external moving parts. The chain had considerable surface rust, but cleaned up nicely. The bike rides well. The paint is generally in good condition except for an area on the top tube and right seat stay which are darker and dull. It looks as if someone may have spot painted these areas at some time. Truly a wonderful bike which I should enjoy a lifetime.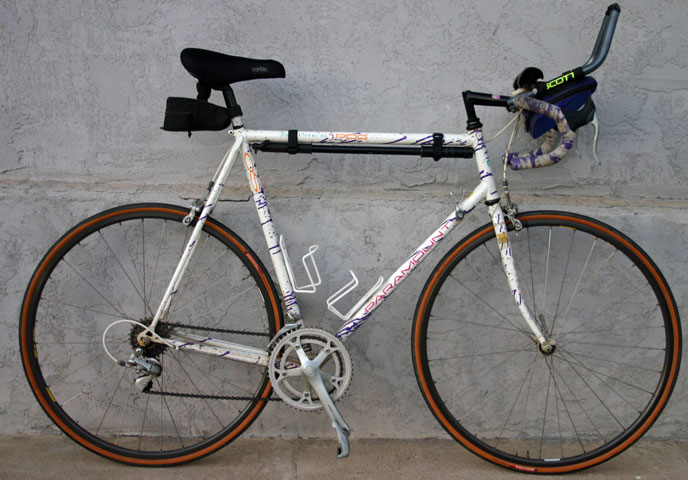 1992 Schwinn Paramount PDG Series 5. Before we get to the details of this bike, we need to discover the history of Schwinn Paramounts after the 1970s as set forth in detail at Waterford Precision Cycles. By the late 1970s the bike boom of the early 70s had collapsed. Further, the Paramount line lagged technologically compared to its foreign competitors. Schwinn shut down the Paramount line so that it could be revamped. Production of Paramounts ceased in Chicago and by the early 1980s a new Paramount facility in Waterford, Wisconsin started. It became known as the Paramount Design Group or PDG. One of their innovations was Oversized or OS tubes starting in 1987. These were steel tubes larger in diameter than traditional tubes to obtain the optimum strength at the least weight. By the early 1990s Schwinn also began importing some bikes from Asia with the Paramount name. These were called the PDG Series bikes as explained at the Waterford site. The road bikes included the steel series 2, 3, 5, and 7 bikes in ascending order of quality. There were also Series 9 carbon bikes. They also made series 20, 30, 50, 70, 80 and 90 mountain bikes. These were all quality bicycles, although not the traditional US made Paramounts. Schwinn was sold in 1993. At that time a group of employees bought the Waterford factory and created Waterford Precision Cycles. Waterford Precision Cycles made Paramounts for the new Schwinn company in 1994. By September 1994 the Paramount line stopped. It was brought back in 1998 with the new Paramounts being built by other builders. Schwinn is now operated by Pacific Cycle, a division of Dorel Industries, Inc. (www.schwinnbike.com - Heritage.) Mongoose is also a Pacific Cycle brand. Dorel also acquired the Cannondale bicycle brand in February 2008. Cannondale had filed for bankruptcy in 2003. Cannondale was an early innovator in Aluminum bicycles with oversized tubes starting in 1983 and still makes quality bikes. ( Wikipedia - Cannondale Bicycle Corporation)

My bike is a 14 speed 1992 Japanese made PDG Series 5 bike with "Paramount Precision Butted" Oversized (OS) Tange chromoly tubes. The tubes are joined by lugs. It has Shimano 105 derailleurs, brakes and hubs, with Mavic Reflex SUP alloy rims and DT Swiss stainless steel spokes. The handlebar stem is PDG 4130 Chromoly. It has Serfas Neu-Gel seat which I don't think is original. It is in very good cosmetic and working condition. It looks like it has always been stored inside. I purchased it on 9-6-08 for $50 at a San Carlos area of San Diego garage sale. With a seat tube height of about 24.5" it is way too big for me. The prior owner was 6'2" with long legs. For the price, I could not pass it up, however. It is described at pages 19, 20 and 24 of the 1992 Schwinn Catalog at www.trfindley.com. The color is "white with purple slime" which many people dislike, but which I think is sort of cool. There is a discussion of the PDG Series at www.bikeforums.net.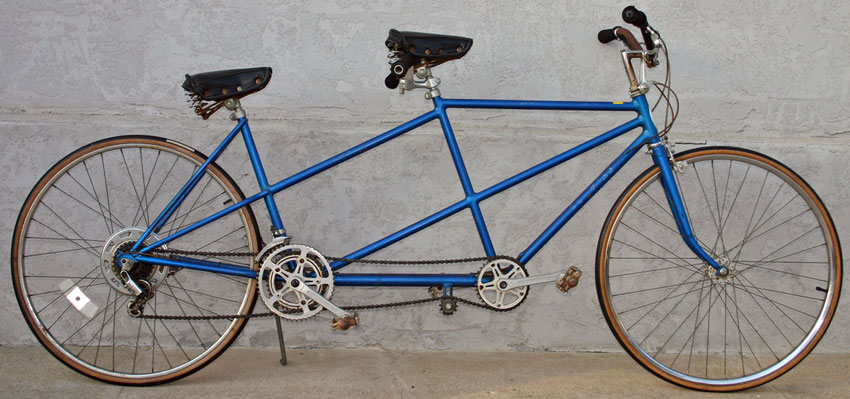 1980 Schwinn Twinn Sport. (Larger Image) Date from serial number - see Schwinn Bicycle Serial Numbers. The 1980 model looks similar to the 1979 model which the 1979 Schwinn Catalog, page 44, at the Bob Hufford site describes as: "The ten-speed Twinn Sport is equipped with drop style front and All-Rounder rear handlebars, Comfort Form racing style saddles, internal expander rear and front brakes with 27" x 1.25" Schwinn Puff gumwall tires. Weight: 52 lbs. . . . $375." $375 in 1979 equals $1074 in 2007 dollars. To compare, the Paramount Tandem in 1979 weighed 42 lbs and cost $1,395. The one or five speed Twinn Tandem models with 26" wheels weighed 64 lbs and cost $219.95 and $239.95 respectively. The Twinn Sport hence represents a mid level tandem in the Schwinn line-up. The actual 1980 catalog page is at Schwinn Catalogs, 1980-1990. It appears to have been built in Chicago with similar electro-forged 1010 carbon steel tubing as the 38 pound, $149.95, Schwinn Varsity which the 1979 catalog at page 17 describes as "the World's most popular ten speed bicycle." The electro-forged Schwinns were heavy, however. (See Inside the Varisity for an excellent article on Schwinn's unique "electro-forge" process.) For $10 more than a Varsity one could have a 32 pound Schwinn Traveler III imported from Japan or a 28 pound, $249.95, Schwinn Le Tour II, both with external lug frames. A bikeforums.net discussion notes the late 70s or early 80s Twinn Sport was heavy and hence relatively slow, but still can be a lot of fun. Seat tube height in front is 22" with a step over height of about 31.25". It has Silstar alloy cotterless cranks. This is better than the one piece steel cranks found on the Varsity, Continental and SuperSport. It still has the large bottom bracket diameter like those bikes, however. Some would upgrade SuperSports with cotterless cranks in a similar fashion. It has Dia-Compe front side pull brakes and a drum brake in the back. It has 27" x 1.25" steel tubular rims similar to a Varsity. The original racing style handlebars in front have been replaced with cheap upright bars that are rusting. It also has newer brake levers designed for upright handle bars. Derailleurs are "Schwinn Approved" - I believe Huret. Tires state "27 x 1.25 to Fit Schwinn S-6 or K-2 rim." They are made in the US and appear to be the original tires. The tread is heavily worn, but the side walls are not very cracked. The bike is in reasonably good riding condition. The front derailleur is not working. There is only a little surface rust. The chain is very greasy but not rusty. The bearings on the back wheel may need to be overhauled. The paint is fair. It looks like it was unprofessionally repainted once. You can barely make out the original decals. Purchased on 7-8-07 for $150 in the Carmel Valley area of San Diego from an ad on Craig's List. The original ad was for $100 but the sellers later changed it to $250. We negotiated to $150 which would be very pricey for a 1980 steel bike, but even used tandems tend to run high. Tandems in general are faster and more efficient than a comparable single rider bike because of the comparative weight advantage (i.e. a tandem weighs less than two similar bikes combined) and the greater aerodynamic advantage (you are cutting through the air only once instead of twice). It was purchased near my 25th wedding anniversary - the perfect gift to my wife and me to keep us riding together in life for the next 25+ years!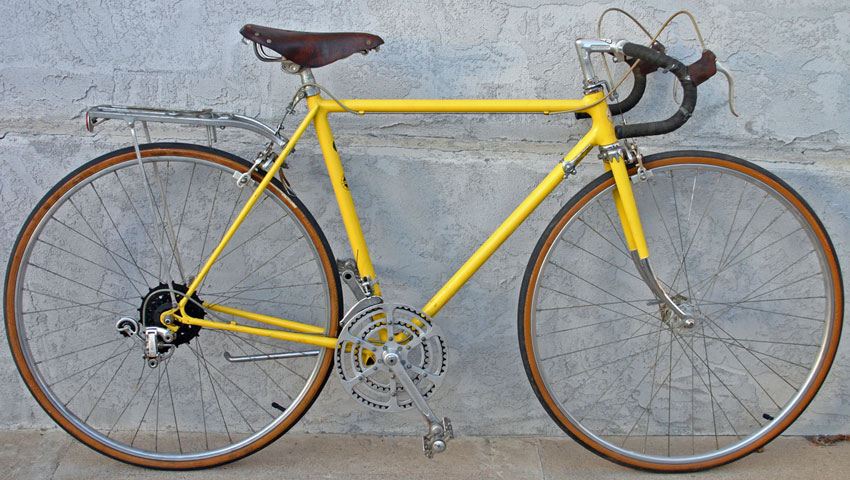 1971 Schwinn Sports Tourer (Larger Image) Dated using serial number and Schwinn Lightweight Data Book Serial Numbers. Straight gauge chrom moly fillet brazed frame as explained at Fillet-Brazed Schwinn Bicycles by Mike Roth at the Sheldon Brown site. According to that article, during 1962-1978 Schwinn made the following fillet-brazed bicycles: Superior 1962-1963, Super Sport 1964-1973, Sports Tourer 1971-1975, and the Superior from 1976 to 1978 which was a renamed Sports Tourer. The Japanese external lugged Super Le Tour was introduced in 1978 and took the place of the Superior. The Sports Tourer sold for $196 in 1971 compared to $136.95 for the Super Sport the same year. $196 in 1971 is the equivalent to $1,008 in 2007! A Paramount in the same year cost $350. Advertised weight is a hefty 31 pounds, only two pounds lighter than the Super Sport. By comparison the Paramount tourer that year was 25 pounds. Complete specifications are at Schwinn Lightweight Databook. It indicates there that the derailleurs were "Campagnolo Gran Turismo rear derailleur and Schwinn-Approved front derailleur." The owners of my bike said they changed the rear derailleur to a Shimano Crane GS and the front derailleur is Campagnolo. It also has Campagnolo down tube mounted shifters, an upgrade from the standard stem mounted shifters. This bike also has ttt Italian handlebars and stem. The hubs are Schwinn Approved DeLuxe made in France. Weinmann alloy 27 x 1 1/4" rims. Weinman center pull brakes. The stock model has "suicide" levers. Mine does not. Mine also does not have the standard toe clips. Brooks leather saddle. Frame size 22 inches - center of bottom bracket to top of seat tube. It has a very wide gear range for a 10 speed ranging from 28 to 104. Front chainrings are 52 teeth and 36 teeth (noticeably smaller than most) with rear cogs of 14, 17, 22, 28 and 34, which was apparently the widest for any mass produced bike at the time. The 28 and 34 cogs have widely spaced teeth for easier shifting. Mine is the Kool Lemon color. Curiously, the frame does not have a Schwinn Sports Tourer label. The sellers said they bought it new and never repainted it. It looks as if the photo of the Sports Tourer in the 1971 Schwinn Consumer Catalog may also not have a label. (See also 1971 Paramount/Sports Tourer/Super Sport Catalog.) Perhaps since it was a new model they had not yet got around to making the decals. The Schwinn road bike line-up in 1971 from lowest price to highest price was Varsity, Continental, Super Sport, Sports Tourer, and Paramount. The Varsity and Continental frames used electro-forged carbon steel, the Super Sport and Sports Tourer frames used straight-gauge 4130 chrome molybdenum and the Paramount frames used Reynolds 531 double butted chrome molybdenum. (See Eugene A. Slone, The All New Complete Book of Bicycling (Simon & Schuster 1980) pages 19-20, and Fillet-Brazed Schwinn Bicycles.) See Steve Barner's Bicycle Collection for many nice views of a 1973 Sports Tourer. While a heavy bike they are can be highly sought after according to More Schwinn Sports Tourer Insanity and oldroads.com. The early 1970s was a time of a huge bike boom. Schwinn and others struggled to keep up with demand. A 1972 Schwinn brochure states that in 1969 less than 200,000 ten speeds were produced in the United States. By 1972 production had increased over ten fold to 2 million. Articles about the boom were featured in magazines as diverse as National Geographic (Bicycles Are Back- and Booming!, May 1973), Time (They Like Bikes, June 14, 1971) and Playboy, which featured a yellow Sports Tourer on its August 1971 cover. I purchased my Sports Tourer on 9-15-07 in the Kensingston area of San Diego through an ad on Craigslist for $75. It is in very good cosmetic condition. Mechanically it is sound except it has some derailleur adjustment issues and I broke the chain. The gumwall area of the tires is also flaking off. The sellers, a husband and wife, had bought it new. It was the wife's and she loved it. She especially liked the wide gear range and indeed preferred it to lighter bikes because it was more stable. She could no longer ride it because of a knee problem and it had been in storage for twenty years. She shed a few tears seeing it go. I promised to take good care of it and ride it.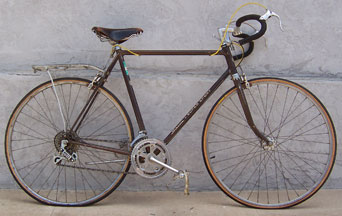 Schwinn SuperSport, 10 speed purchased by my father as a Christmas present to me in December 1971 when I was a freshman in high school. Click for photo of new bicycle. It is in reasonably good riding condition with some surface rust. The tires and tubes are rotted. This was used by me for recreational riding in high school and college, and to commute to law school when I lived in Eugene, Oregon. It was also used for some extensive rides in Oregon. My brother also received the red SuperSport to the right for Christmas 1971. (My brother earlier had a Continental which we traded in in 1968 for a 5 speed Sting Ray Fastback for me.) The red SuperSport was later used by my wife in Oregon. It is in fairly good condition, but needs new tires, chain, and tune-up before you could ride it. This has nearly all the original components unlike the brown SuperSport, and has been riden much less.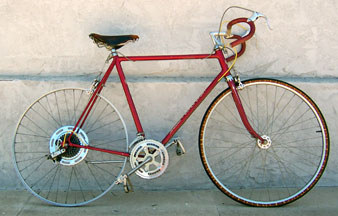 Schwinn SuperSport. The SuperSport was the best in the Schwinn Varsity, Continental and SuperSport line-up. The SuperSport had a quality chrome-molybdenum ("chromoly") frame with unique fillet-brazed joints unlike the flash-welded steel frames of the Varsity and Continental. Unfortunately, it had many heavy components including a steel one piece crank that made it a heavy road bike. According to the excellent Mike Rother article in the Harris Cyclery - Sheldon Brown site, Super Sports were made in Chicago, Illinois from 1964 to 1973. From 1971 to 1973 the retail price was $136.50, over $650 in 2005 dollars. An excellent site regarding the 1971 SuperSport and other Schwinn lightweight bicycles of the era is Schwinn Lightweight Databook. The Japanese lugged LeTour took the place of the SuperSport after 1973. The SuperSport name has reappeared over the years including a recent high quality alumninum frame bike. Wikipedia has a good article of Schwinn's history. Schwinn bicycles were the thing when I was a kid. In the 1980s they fell on tough times, however, and in 1992 filed for bankruptcy. In 2001 Schwinn was acquired by Pacific Cycle and today are found in department stores like Target. Gone are the days of Schwinn bicycles made in Chicago and sold exclusively in Schwinn stores.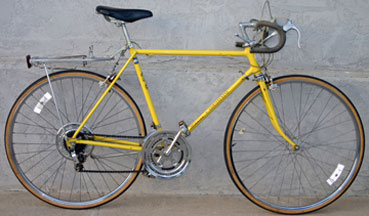 1972 Schwinn Continental, (Large Image) a Chicago made electro-forged carbon steel Schwinn priced at $104.95, one model up from the Varsity ($89.95), and one below the SuperSport ($136.95). Above the SuperSport was also the fillet-brazed Sports Tourer ($196) which had an alloy cotterless crank and the beautifully lugged Paramount ($350) with Reynolds 531 chrome moly tubing throughout. The Continental in the 1972 Consumer Catalog is described as "More Bike for the Man-About-Town" with a bikini clad gal looking admiringly at the Continental. (Ah, advertising and marketing!) It came in three sizes (from center of bottom bracket to top of seat tube): 22", 24" and 26". Schwinns seemed to come in big sizes. This is a 22" and fits me but is on the large side (I have short legs). My 24" SuperSport was too big for me. A couple of years later the Continental did include a 20" size. It came in three colors: Sierra Brown (like my SuperSport), Burgundy (like my brother's SuperSport) and Kool Lemon (this bike) which is indeed cool! The 1972 catalog does not list the weight, but the 1973 catalog does list the weight as 37-38 pounds, depending on the frame size. A Varsity was a whooping 38-41 pounds and the SuperSport was 34-35 pounds depending on frame size. Therein lies the problem with the Chicago made Schwinn "lightweights" - they were heavy! (Excluding Paramount.) Every other road bike I have, many which would have been priced similarly to the Continental or SuperSport, weighs 30 pounds or less. Weight is one of the principal factors in bicycle design. It does make a difference. (Remember Force = Mass x Acceleration.) While the Continental is tough and rides nicely, it is noticably more difficult to get up hills. Purchased for $20 at a San Carlos area of San Diego garage sale on 8-10-07. It is in very good condition. Pumped up the tires, and it was ready to go.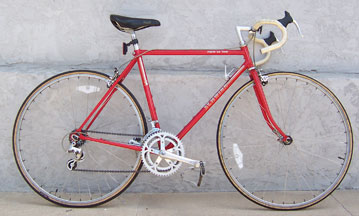 Schwinn Super LeTour, purchased at a neighborhood garage sale in 2001 or 2002 for $10. It is in good working condition, except for the rear wheel which likely needs to be replaced. I used it for several weeks to ride to OLG. It is a nice, reasonably lightweight, road bike. According to the Mike Rother article in the Harris Cyclery - Sheldon Brown site, the Japanese made Super LeTour was introduced in 1978 to replace the U.S. made Schwinn Superior, which had a fillet-brazed frame like the SuperSport above. Specs: 12 speed, Columbus Tenax chromoly tubing, Suntour Cyclone rear derailer, Weinman 27" x 1" rims, Sugino GT crank, Avocet Criterium saddle, Dia-comp 500 brakes,Shimano 600 pedals. Regarding Columbus tubing, a thread in the Schwinn Forums site states:"Columbus (an Italian tubing mfgr) made SLX (super-light racing tubing), SL (really good roadbike tubing), and SP (a little heavier, used for entry-level and touring frames). The Tenax tubing was basically 'factory-seconds' of the SP tubing (no structural problems, just not as good a finish as the SP); Schwinn bought the entire supply, and was the exclusive provider of Tenax frames for a couple of years." There were also Super LeTour 12.2 and Super LeTour II models. The 1976 Super LeTour is also discussed at Schwinn Forums.
Schwinn | Trek | Raleigh | Bianchi | Peugeot | Motobecane | Roold | Nishiki | Fuji | Kuwahara | Giant | Univega

Trek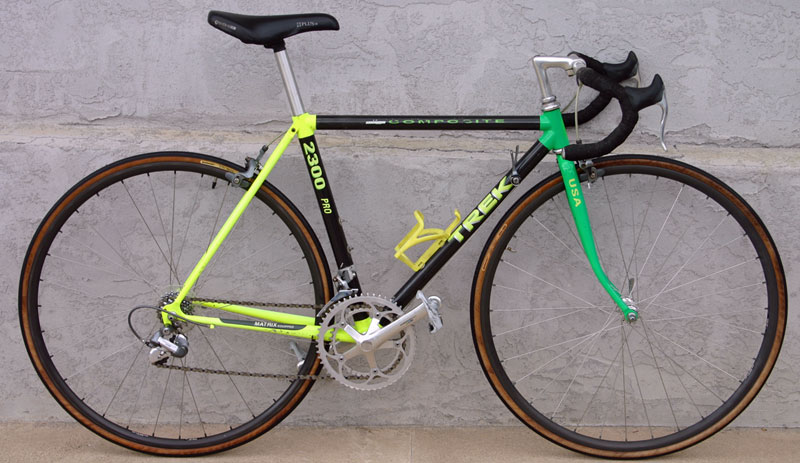 1990 Trek 2300 Pro (Larger Image) Aluminum bike. Date is from information at Vintage Trek referring to the color scheme. Carbon fiber main tubes with Aluminum lugs, rear stays and fork. Trek made their first composite bike with carbon main tubes and Aluminum lugs in 1987 according to the Vintage Trek Timeline. Filaments of carbon are woven together to form a fiber (See Wikipedia - Carbon Fiber) which is then made into tubes that are joined with Aluminum lugs in a bike like this. Carbon can be strong yet lightweight. (See generally Wikipedia - Bicycle Frame.) This bike weighs about 21 pounds using my bathroom scale. According to the Vintage Trek Timeline Trek made bicycles with Carbon tubes and Aluminum lugs up to 1998. At that point all of their Carbon frames were made entirely of Carbon with no Aluminum lugs. Carbon frames are not limited to a tube design. They can be molded to specific shapes which may offer significant aerodynamic advantages. The basic tube design is often maintained, however, due to international bicycle racing requirements. (See Vintage Trek Timeline - 1998 and 1999 referring to the Trek Y-Foil 66 and 77 aerodynamic carbon fiber road bikes ceasing production.) Specifications in the 1990 Trek Catalog for the Trek 2300 Pro are at Vintage Trek Specs - 1 and Vintage Trek Specs - 2. The Trek 2300 Pro was the second road bike from the top and came with quality components including Shimano Ultegra 600 components and Matrix ISO-C II 700C, hard anodized rims. The frame and rims are made in the USA. My bike has a 50cm frame as measured along the seat tube from the center of the bottom bracket to the top of the seat tube. My usual size is 53cm or 54cm. This is therefore a bit small. I can ride it with the seat post extended to almost its maximum. Even though it was not the best size, it was hard to pass up a composite bike for only $65. I purchased it at a garage sale in the Fletcher Hills area of El Cajon, CA on 3-29-08. It appears to be in good condition. I do not see any cracks in the Carbon fiber or the Aluminum. The finish is in generally good condition with a few scratches. The paint on the rear stays on one side has faded, however. It shifts perfectly. The wheels are true. The brakes work fine. A very cool addition to the museum!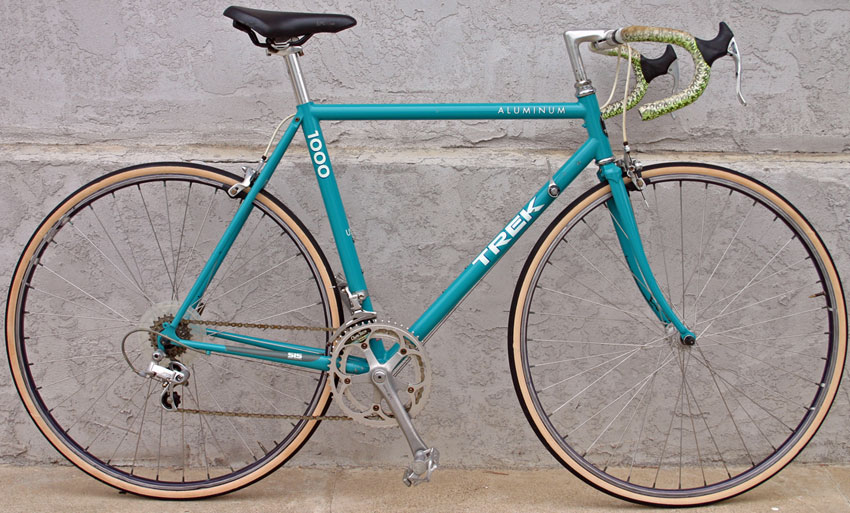 1988 Trek 1000 (Larger Image) Aluminum bike. Date is from information at Vintage Trek including serial numbers, color scheme - aqua with white lettering, timeline with head label and lettering for 1988, and component dates (Shimano rear derailleur has a MA code for 1988 - has other lettering also, however.) My bike also looks similar to the 1988 Trek 1200 at velospace.org. The seller said it was from 1999, but that does not seem accurate. The color appears to be identical to my 1987 Trek 560. The frame size is 54cm - just perfect for me. The frame is "Trek 6061-T6 Heat Treated Alcoa Aluminum Specically Designed by Trek Bicycle Corporation Made in the U.S.A. From Alcoa Aluminum." Trek produced their first Aluminum bike in 1985, the adhesive bonded Trek 2000, according to the Vintage Trek Timeline. According to the Vintage Trek Bike Models/Years/Colors the Model 1000 has been produced from 1986 through at least 2005. It is the entry level Trek Aluminum road bike. According to the Vintage Trek Timeline Trek Aluminum bikes were bonded with internal lugs from the start in 1985 until 1999 when they were welded. My Trek 1000 is a 12 speed with a Sakae SX Oval Tech Efficiency Plus Crank Set with Sakae 250 chainrings with 52 and 42 teeth. It has SIS Shimano Index System derailleurs. The rear derailleur is named "Shimano Light Action." The brakes are Shimano SL (?) alloy side pull. Rims are Matrix Titan S 700c, made in the USA, Tru America, Waterloo, Wisconsin. Stainless steel spokes. It has Michelin 110psi tires, 23-522, Presta valves, made in France. The pedals are HTI A19. There are no toe clips, although I assume it originally had toe clips. It's about 23 pounds using a bathroom scale. Purchased for $50 in the Mira Mesa area of San Diego on January 27, 2008 from an ad on Craigslist. The ad was not very specific, but the seller said he got a lot of calls. It was stored most recently on the seller's covered apartment balcony. There is some rust on steel parts, but in general it is in good condition. The paint is generally good with some scratches. The steel fork has a lot of scratches with rust underneath. The chain had some rust but cleaned up nicely. The bike seems to shift well. Wheels are true. The rims are black, but seem to have reacted in a few places with something removing the black. Brakes work well. The seat cover was in poor shaped so I replaced the seat and post with one from a broken Trek 2000. My Trek 1000 looks very similar to the steel Trek 560 and the Aluminum Raleigh Tri-Lite below, both of which are of a similar vintage. It even has skull handlebar tape (in poor shape) just like the Raleigh Tri-Lite. Overall a very nice vintage Aluminum bike that is a great addition to the museum and great for riding.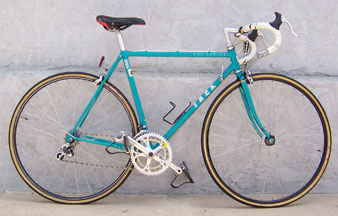 1987 Trek 560, Pro Series a wonderful 23.2 pound, 1987 road bike purchased at a neighborhood garage sale in 2003 for $50. This bike was handcrafted in Waterloo, Wisconsin. The 1987 product catalog states: "The first in Trek's line of dedicated racing bikes, this machine transforms Reynolds 531 tubing and Trek investment castings into a tightly-responsive short-wheelbase frame. The performance soars higher with Shimano's new 105 component group complete with S.I.S. shifting, Biospace crackset, and linear response brake system. Matrix Titan wheelset and Matrix rubber complete this exciting package." The catalog is included in the very interesting vintage-trek.com site that includes a discussion of the history of the relatively young Trek Bicycle Company started in 1976. The price in 1987 was $569 list and $499 on sale according to the price list at Vintage Trek - Price List. $569 in 1987 equals about $1,060 today.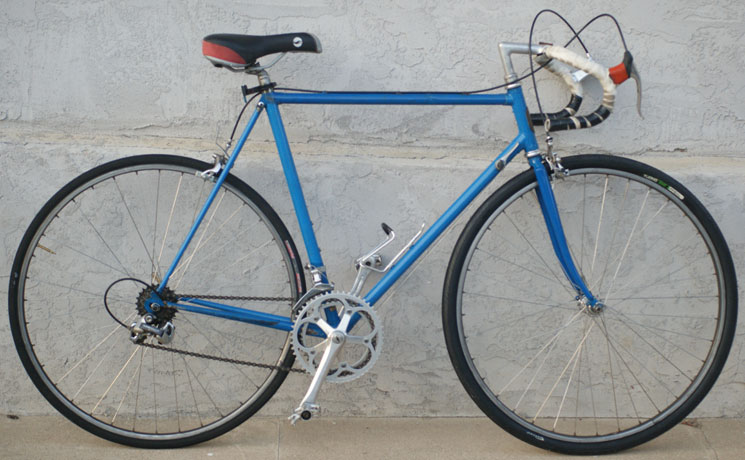 1985 Trek 600 (Larger Image) Does not have decals except for the Reynolds 531CS decal, but seller said she thought it was a Trek 600. According to Vintage Trek, the Trek 600 was made only in 1985. It came in two colors, a red and a racing blue. Mine has been repainted in part, but where the Reynolds 531CS label is the paint is still the original color which looks like a racing blue. The serial number is 160294. Vintage Trek - Serial Numbers lists 1984 as 113649 to 167778 and 1985 as 167779 to 224106. That means mine was made in late 1984 which is consistent with a 1985 model year bike. (See note 1 at Vintage Trek - Serial Numbers.) The serial number is on the bottom of the bottom bracket which also states it is a Trek made in the USA. My bike has a Reynolds 531CS transfer label. A Reynolds Transfer chart, apparently produced by Reynolds, states that Reynolds 531CS tubing, the CS standing for "Club Sport," has "top[,] seat and down tubes BUTTED in REYNOLDS 531 tubing and head tube, BUTTED Steerer, TAPER GAUGE forks, seatstays and chainstays manufactured from specially cold worked chrome Molybdenum tubing. Designed for fast sports and touring." In other words, the main triangle is double butted Reynolds 531 Manganese-Molybdenum steel. The rest is Chrome Molybdenum tubing. (See Reynolds Decals of the past & their meaning.) Vintage Trek has the 1985 Catalog with Sport Bikes. The picture of the Trek 600 is largely consistent with my bike. The handle bars have white tape. The Trek 600 is described as having Reynolds 531CS tubing. The wheels are described as Matrix Titan rims with Gyromaster hubs and stainless spokes like mine. Like the catalog, I also have Shimano 600 brakes, an SR Custom Stem, and a Shimano 600 front derailleur. I have a Suntour Alpha-3040 Accushift Rear Derailleur and Suntour shift levers, however, where the Catalog specifies Shimano 600. Likely, the rear derailleur and levers were replaced since it would be odd to mix deraileur brands on a new bike. Also, my crank is a Sugino VP. The Catalog specifies a Shimano 600. My best guess remains that it is a Trek 600.

The size is 22.5 inches. Condition is fair. There are two dents in the top tube. One is on top and looks like it is from some point impact. The other is below that and larger. I think it is likely is the same thing caused both dents. I don't know how a crash could create dents like that. Perhaps something fell on it instead. It has a amateur re-paint job that looks like it was brushed on. There is rust around the brazed on rear brake cable guides on the top tube. There could be other rust under the new paint elsewhere on the frame. It rides well. The frame appears straight and rides fine with no hands (although I don't ride well with no hands). The chain appears to skip slightly with each turn. My guess is the chain and rear deraileur might not be matched correctly creating too much slack in the chain. Also, the chain may be worn. It appears to have a replacement plate on the bottom of the bottom bracket that replaced the original derailleur cable guide. The pedals are missing the toe clips which would have originally come with the bike. Also, it looks like the edges on the pedals have been purposely bent perhaps to make it easier to ride with regular shoes. It came without a front tire. I put on a 700 x 32 tire on. That's quite wide for this bike, but I had gotten it on sale at REI a couple of years earlier. I only paid $25 for the bike on 7-22-09 from an ad on Craigslist. I picked it up from the seller's grandparents in the Fletcher Hills area of El Cajon, CA.
Schwinn | Trek | Raleigh | Bianchi | Peugeot | Motobecane | Roold | Nishiki | Fuji | Kuwahara | Giant | Univega

Raleigh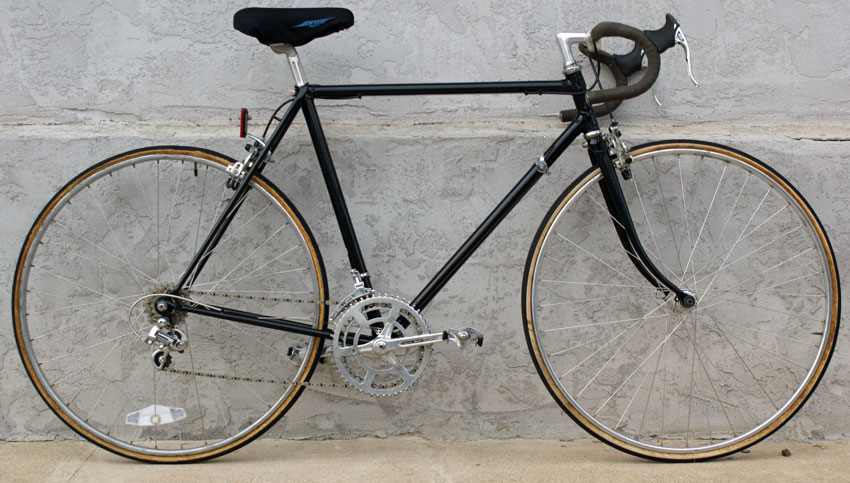 1973 Raleigh Competition Serial no. G5631 which means it was made in 1972. See Sheldon Brown - Retro Raleighs - Determining the Age of A Raleigh. Mine further looks like this 1973 Raleigh Competition at velospace.org including having the ornate lug work with the round holes. The lugs are Carlton "Exclusive Capella" lugs as identified in the Specifications in the 1973 Raleigh Catalog at Sheldon Brown. (See also front - top tube, rear - top tube.) I am therefore convinced mine is a 1973 Raleigh Competition even though mine has been repainted and lacks any decals. This is also confirmed by the sellers who indicated it was a 1975 high end Raleigh with Reynolds 531 tubing. The sellers appear to have been off by a couple of years. It was made in England. The Competition was third from the top of the Raleigh line. Above it were the International and the Professional. The International had similar Carlton lugs, but in chrome. See Sheldon Brown - Raleigh International - 1973 Champagne International. Below the Champion were the Grand Sport, Super Course TT, Super Course, Grand Prix and Record. See 1973 Raleigh Catalog at Sheldon Brown. As identified in the catalog, it has Reynolds 531 double butted main tubes and Reynolds 531 forks. Like the Competition in the catalog, mine has the Specialites TA alloy crank and chainrings. Mine has Weinmann 605 side pull brakes instead of the Weinmann center pull brakes in the catalog. Weinmann 605 brakes appear to be from that time period, however, and I think are probably original. Mine also has Champion Super Competition rims made in France with tubular tires. Mine also has the Raleigh 501 pedals shown in the specifications in the catalog. These were also used on the lower quality models. Mine does not have toe clips but would have originally. My front derailleur is a New Huret Jubilee. I have a Cinelli stem and Cinelli 3TTT bars. I do not know if these are original. The original saddle would have been a leather Brooks 17N seat. I have a replacement Avocet W20 GelFlex saddle. It had the original product tag underneath it with a trademark date of 1987 and a price of $29.95. My bike has a Laprade seat post. The rear derailleur and rear cluster are newer Shimano 600. Originally the bike would have been a ten speed. My rear cluster has six sprockets, however, making it a 12 speed. The rear hub is identified as a Normandy Luxe Competition hub. The front may be the same. The front has an interesting, very large, quick release mechanism. (See image front rim, fork, etc..) A participant in a discussion bikeforums.net indicates they bought a new Raleigh Competition from a local bike store in 1973 for $325 - that's almost $1,600 in 2010 dollars. As indicated above in the discussion of the Schwinn Continental, a 1972 Schwinn Paramount was only slightly more at $350. My frame is 22 inches (56 cm) from the center of the bottom bracket to the top of the seat tube. That's within my size range and a nice medium, collectible size. Using the bathroom scale, mine weighs only 22.5 pounds. Mine is in nice, rideable shape. I cleaned it, pumped up the tires, lubricated the chain, and reattached the cable for the front derailleur. The rear wheel is out of true. I did some adjustments which helped a little, but it could use a professional truing. The sew up tires still hold air. The re-paint job looks like it was professionally done - I assume a powder coat. They painted over the Raleigh heron emblem on the front, however. The black color is the same as the original. The paint covers a couple of small dings on the top tube. The nylon cover to saddle is coming off and needs to be reattached. I purchased it on 4-17-10 for $35 at a La Mesa, CA garage sale advertised on Craigslist. I think $35 is a great price for a vintage bike of this caliber.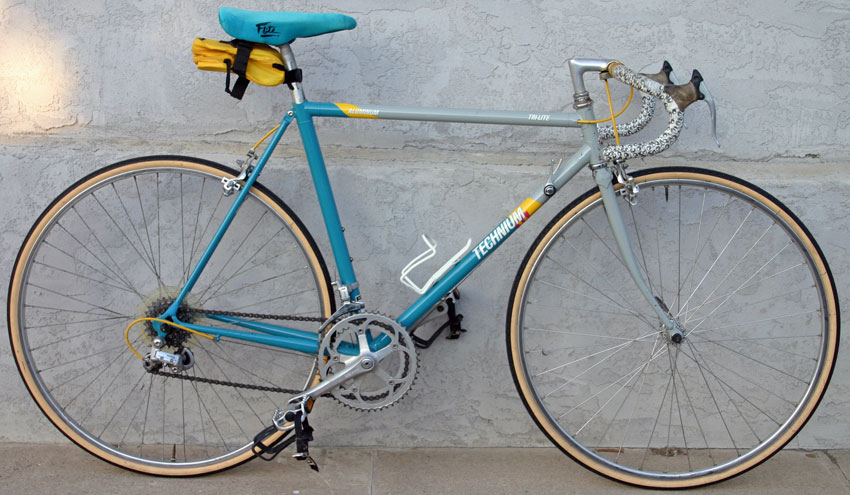 Raleigh Technium Tri-Lite (circa 1988). Raleigh is one of the oldest names in bicycling with roots dating back to 1887 in Nottingham, England. See generally Raleigh in the Last Quarter of the 20th Century. Its name is closely linked with the English three speed racer such as my Rudge which by the 1950s had become a Raleigh flagship brand. (See Sheldon Brown - Servicing English Three-Speeds. Raleigh was acquired by Derby Cycle in the late 1980s. Derby, located in Kent, Washington, became the largest bicycle company in the world by 1992 and acquired companies such as Nishiki, Univega, and Diamondback. (Raleigh in the Last Quarter of the 20th Century.) Around 2001 Derby was renamed Raleigh Cycle, Ltd. according to www.totalbike.com. (See also www.fundinguniverse.com.) No Raleigh bikes have been made in the UK for several years and the Nottingham facility has reverted to other uses. (See Nottingham Buildings for photos.) There are several Raleigh subsidiaries or related companies today including Raleigh America located in Kent, Washington, Raleigh UK, and Raleigh Canada The traditional Raleigh heron emblem on my bike says "Raleigh Cycle Company of America." The bike was made in Kent, Washington, USA.

The main tubes of my bike are made of Alcoa 6061-T8 Aluminum. The tubes are joined by thermal bonding instead of being welded as most joints are today. The rear triangle is steel. Aluminum is about a third the mass of the same volume of steel. In other words Aluminum is about a third the density of steel. Steel in general terms is about two to three times stronger. Things are actually more complicated than that, but in general you can make a somewhat lighter bike out of Aluminum than steel. The longevity of Aluminum is not as clear as with steel. Aluminum will fail after repeated flexing. Also, damage to an Aluminum bike frame is difficult to economically repair. Poorly made, cheap bikes can be made out of either material. What frame material to use is a complex issue and is only one of many factors in bicycle design. While choice of frame material is a hotly debated issue, clearly nice bicycles can be made out of steel, Aluminum, Titanium or Carbon fiber. (See Sheldon Brown - Frame Materials, Waltworks - Steel Rules, Aluminum vs. Carbon vs. Tituanium, Horwitz, Building Your Own Recumbent Trike, Chapter 1, Choosing the Materials, Schlitter, Steel and Aluminum Bicycle Frames, RANS Bikes.)

The Raleigh Technium Tri-Lite is discussed at several sites. Raleigh Technium? - Bike Forums, Raliegh Technium ID? - Bike Forums, Raleigh Technium 440 - Bike Forums, Retro Raleighs Models. The last site gives at date of 1988. An August 1987 Money Magazine article (McNatt, "In Search of the Perfect Bike") describes the Tri-Lite as an excellent $450 (about $825 in 2007 dollars) entry level racer. It is a twelve speed with Suntour Alpha 5000 index deraileurs. Other components include Saeka SX crank set with 52 and 40 chain rings and sealed bottom bracket, Dia-Compe Alpha 5000 brakes, Road Champion Saeke Custom handlebars (England), Sansin sealed rear hub with Araya alloy rear rim, Maillard front hub (France) with alloy rims (label came off - brand unknown), Michelin Tracer 700 x 25c tires, and Cyclepro "Titanium" seat. The bike is in generally good condition. Either the front or back wheel must have been replaced since the wheels do not match. It shifts fine although the front shift lever is stiff. A unique feature is handlebar tape with little skulls. Not my choice! Purchased for $60 on 11-4-07 in the Serra Mesa area of San Diego from an ad on Craigslist.

Photos: brake, head set, joinder of rear tringle with seat tube, at nearby lake in evening
Schwinn | Trek | Raleigh | Bianchi | Peugeot | Motobecane | Roold | Nishiki | Fuji | Kuwahara | Giant | Univega

Bianchi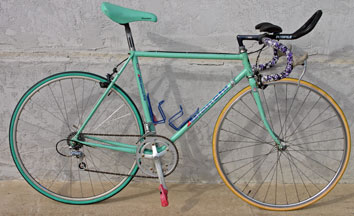 Larger image
Bianchi, in the classic Bianchi "Celeste" color. (See Wikipedia.) Bianchi is one of the oldest and most prestigious bicycle manufacturers with a fine racing history for 120 years. I'm not sure of the model name for my bike. It has Columbus CROMOR chrome moly tubing. Columbus Tubing from circa 1989 is a great comparison of the different types of Columbus tubing including CROMOR. The date also tells me the bike is likely from the late 1980s. The chart indicates the down tube and top tube are double butted and the seat tube is butted. The bike appears to be a high quality mid-level bike. The bike was made in Italy. At the time Bianchi also sold less expensive bikes made in Japan. The bike weighs about 24.4 pounds. It has Suntour Cyclone 7000 derailleurs which are described in multiple eBay entries as being from the late 1980s. This 12 speed bike has a Shimano 105 crank and Shimano SG front chain rings with 52 and 42 teeth. It has Rigida 700C alloy rims made in France, although I temporarily substituted a Japanese Ukai 700 x 25C front rim from a Fuji bike since it already had a tire on it. The original owner referred to it as being a $600 bike. The handlebars, stem and extension may be high quality alloy replacements. I was always drawn to Bianchi bikes because of their Italian heritage and the "Celeste" color. Finally, I got this one at a San Carlos (San Diego, CA) garage sale on 4-14-07. The size is perfect - 53cm; I have short legs! Even the seat was already adjusted to the right height. The seller even threw in a pair of new Performance cycling shoes in about the right size. (10.5 - I might prefer an 11.) The price? $10! The reason for the low price is the seller's dad had left the bike outside for a considerable period of time and there was rust on the chain and other steel parts. The paint has a fair number of nicks and all of these are rusted also. The paint is a little faded also. The tires were shot. One had a gaping hole in it. The other blew (loudly!) when I tried to pump it up. The seat was also shot. The bike cleaned up nicely, however. After a thorough cleaning with citrus degreaser, I sprayed Tri-Flow lubricant liberally on the chain and all rusted parts. The bike seems to run fine. The wheels are true. The indexed deraileurs are adjusted perfectly. The brakes are fine. I will probably overhaul the bearings in the future. I had a spare green tire on a wheel I got a couple of years ago at a garage sale which matches the "Celeste" color. Also, at the same garage sale two years ago I picked up two Bianchi "Celeste" color seats.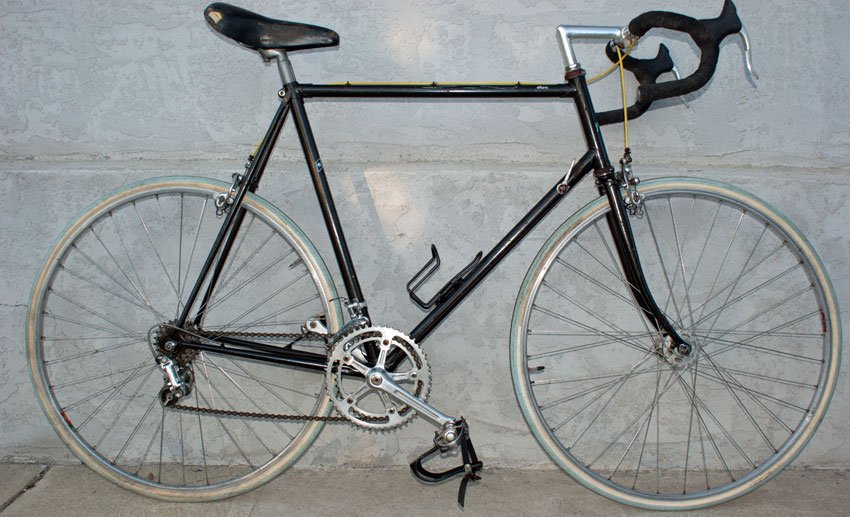 1984 Bianchi Alloro, Circa 1984 Italian made Bianchi Alloro with Campagnolo Nuovo Gran Sport front and rear derailleurs, Mavic 700c Module E (France) rims, Normandy Competition hubs, Cinelli 3 ttt Mod Grand Prix handlebars, and Modolo Sporting brakes. This seems to generally match the description for the 1984 Bianchi Alloro at bikeforums.net - Bianchi Alloro where BianchiGirl quotes the 1984 catalog: "The European components complementing the Alloro give racers the competitive edge. The Columbus TreTubi [f]rame is completed [with] Campagnolo Gran Sport derailleurs, Ofmega Comp. crankset and hubs and Modolo brakes. A unique cycle for the accomplished rider. Celeste or Anthracite." BianchiGirl further states: "Out of 16 road bikes (including tourers and randonneurs) the Alloro falls 9th from the bottom." (See also bikeforums.net - Bianci-Alleoro.) Anthracite is a form of black coal. I assume my metallic black color with shinny specks is hence "Anthracite." According to Hippy at London Fixed Gear and Single Speed, "Columbus TreTubi (3 tubes) is a mixed-tube frameset, with a genuine seamless Columbus double-butted CrMo main triangle (where it really counts), but with lesser material, such as seamed CrMo (Bianchi version) or seamless carbon steel, for the forks and stays." (quoting from oldroads.com.) My bike has the Eddardo Bianchi decal on the head tube, a small Alloro decal on the top tube, two Piaggio decals on the top of the seat tube, and a made in Italy decal on the bottom of the seat tube. It also has "B" stamped into the metal on both sides of the top of the fork and on the top the seat stays. The model should be "Alloro." According to a comment by T-Mar on bikeforums.net, "Piaggio was the corporation that owned Bianchi and Vespa in the early 1980s. The Piaggio decal appeared on the seat tube of all the models for a short period." Mine has a 4D on the right side of the top of the seat tube and a 902 on the left side of the top of the seat tube. This is the serial number pattern for 1980s Bianchi bikes made in Italy according the discussion at www.bikeforums.net - Vintage Bianchi. I'm guessing the "4D" may mean it was made in 1984. My bike seems to have the original paint, but curiously does not have any Bianchi decals on the downtube or any decal for the frame material. The seat tube height is 60cm (24 inches). I unfortunately take about a 54cm. My bike weighs roughly 24 pounds according to my bathroom scale. I purchased it at a thrift store in San Diego on January 28, 2012 for $50 plus tax. It had been advertised on Craigslist for $100. It was unmarked in the store and I asked the price. The store owner said $60. I offered $40 and he stopped at $50. The bike was in poor condition. It appears to have been left outside for a long time. It had a lot of dirt on the rims and considerable rust on any exposed steel surfaces including assorted nuts and bolts and the numerous scratches on the frame. The tires hold air, but have a lot of cracks and strings coming out. Remarkably, mechanically it seems in good shape. The wheels are true. The brakes are reasonably well adjusted and the derailleurs work well except the rear derailleur will need adjustment to fall into the smallest cog. Someone must have recently put on new handlebar tape and brake hoods. Both are in excellent condition. I cleaned up the bike as best as I could with heavy doses of citrus cleaner. I lubricated it with Tri-Flow. Even in the wrong size and poor condition, it was hard to pass up a Campagnolo equipped, Italian Bianchi!
Schwinn | Trek | Raleigh | Bianchi | Peugeot | Motobecane | Roold | Nishiki | Fuji | Kuwahara | Giant | Univega

Peugeot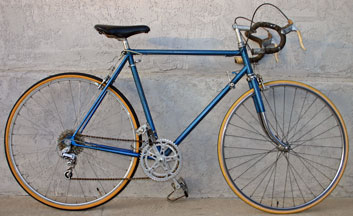 Larger image
Peugeot, 10 speed purchased at garage sale in the San Carlos area of San Diego for $10 on April 28, 2007. Owner said he though it was maybe 35 years old which would put it in the early 1970s. Since it has mostly Japanese components, I guessing mid to later 1970s. He had repainted it and hence there were no decals or names on the bike. He said it was a Peugeot with Reynolds tubing; I'm assuming Reynolds 531. Peugeot is a French company with a history of building bicycles dating back to the 1882. (See Wikipedia.) SunTour Compe V front derailleur and SunTour V-GT Luxe rear derailleur. Suntour Power shifter. Sugino Maxi crank. Sugino chain rings. Araya 27" x 1.25" alloy rear rim made in Japan. The front rim was a steel replacement. I replaced it with a Japanese Ukai 700 x 25C rim from a Fuji bike. Mafac "Racer" center pull brakes. The original paint appeared to be a bright blue. It looks very similar to a Peugeot UO8 that was converted to a single speed track bike at velopsace. (See also Peugeot UO8 Made in France, Oldroads, Peugeot UO8, Paul Dorn, Oldroads 2, bike forums, Cycles Retro Peugeot - Dutch Catalogs, UO-10, yellowjersey.org.) At this point, I'm not sure what year or model it is. It is in reasonably good condition. The home re-paint job is fair, and I prefer the original bright blue color which shows through in places. I replaced the tires and tubes. The brakes work. The gears shift properly, although the front deraileur could use some work. I cleaned the bike and put Tri-Flow lubricant on the external moving parts. It rides fine. Size is about 22 inches (56 cm). It weighs about 27 pounds. On the left rear drop out there is a number that looks like 6 6761 which might be the serial number. Some Peugeots had a plate on the bottom bracket with the serial number. Mine does not, but it does have two small holes that lead me to believe a plate with a number might have been present in the past. Let me know if you can help me identify the year and model.
Schwinn | Trek | Raleigh | Bianchi | Peugeot | Motobecane | Roold | Nishiki | Fuji | Kuwahara | Giant | Univega

Motobecane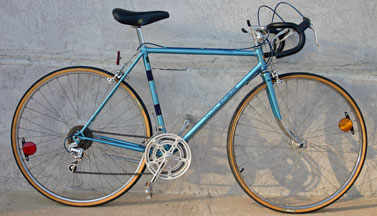 Larger image
Motobecane Mirage, Wikipedia indicates Motobecane was a French company building quality bicycles and motor scooters. The name is a combination of "moto," French slang for motorcycle, and "becane," French slang for bicycle. Wikipedia indicates the company filed for bankruptcy in 1981. A French company continues to make motor scooters. For bicycles, the Motobecane name is used by Motobecane USA which imports bicycles from Taiwan and China. On the down tube my Motobecane states "Made in France." Classic Rendezvous states the Mirage was just above the Nomad, the least expensive bike in the Motobecane lineup during the bike boom of the 1970s. Higher quality models in order included the Grand Touring, Sprint, Jubilee, Grand Record, Le Champion, and Team Champion.
My Motobecane weighs about 29.6 pounds using the bathroom scale. 2040 tubing, a step up from 1020 tubing, but not chrome moly. (See generally Spokesmanbicycles.com article on "Metallurgy For Cyclists.") The 2040 label does not state the tubes are butted and therefore I assume they are not. Steel Ridiga 27" x 1.25" wheels made in France and steel handle bars, pedals and seat post. It has a quick release skewer in the front, but not back. The brakes are "Weinman 610 Vainqueur 999" center pull. It does have a cotterless crankset with alloy Sakae front chain rings (52 and 40 teeth) and SR alloy crank arms with the raised Motobecane name neatly shown. It has an alloy SR handlebar stem. Derailleurs are front Japanese Suntour Compe V and rear Suntour V-GT. ( Image of drivetrain.) The rear Suntour V-GT model is the same as on my gold 1970s Nishiki International. The gear levers are stem mounted. The size is 21 inches measured from the middle of the bottom bracket to the top of the seat tube. Instead of handlebar tape it has what appears to be a molded black plastic covering made to look like the black stitched leather covering on higher end Motobecanes. Purchased in Escondido, CA from an ad on Craig's List. (I have to quite looking there. There is always another interesting bike for cheap!) Cost - $15, although I paid $20 since I didn't have change. It is in very good condition with very little rust or nicks on the paint. The tires look to be original and still have a lot of tread on them. Mechanically it functions fine and the ride is good. Conclusion: A lower end usable road bike in great condition from a quality French company. You could get better bikes then and now, but for $15 a terrific bike. Other sites discussing Motobecane include: Schwinn Heritage, flickr.com (similar looking 1981 Motobecane Super Mirage, SoCalMtB.com, cyclingforums.com, oldroads.com, and Beautiful 1980 Restored Motobecane Mirage.
Schwinn | Trek | Raleigh | Bianchi | Peugeot | Motobecane | Roold | Nishiki | Fuji | Kuwahara | Giant | Univega

Roold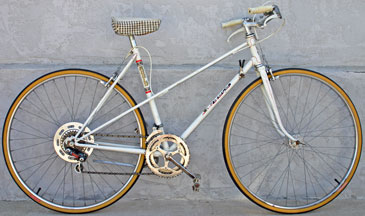 Larger image
Roold Mixte 10 Speed, 10 speed purchased at garage sale in the Fletcher Hills area of El Cajon, CA on 6-30-07 for $2! The seller said he has tried to sell it had the swap meet a couple of times with not takers. Made in France. Several sites mention the Roold brand, but without a lot of information: bikemojo.com, oldroads.com, oldroads.com (scroll most of the way down - refers to a nice 21 pound road bike), velospace.org (photo of very nice Roold track bike), bikeforums.net (same or similar model to my bike), esthetescyclist.blogspot.com (has photo of vintage Roold poster), superbposters.com (reproduction of vintage Roold poster). The company symbol has a kangaroo which some people describe as a rat or squirrel! The bike looks very similar to a Puegeot including the familiar Simplex derailleurs and the Mafac Racer center pull brakes. Mixte tube design. (See the Nishiki Olympic to right.) Rigida 27 x 1.25" steel rear rim and similar, but not identical, style Samir Saminox front rim, both made in France. 52cm seat tube. Weighs 29.4 pounds using bathroom scale. In good working condition except one of the derailleur jockey wheels is cracked and missing a piece. Hence, you get a clunk, clunk, clunk sound while pedaling. The frame has some rust. Surface rust on the wheels, handle bars, etc. cleaned up nicely. Some chrome missing on the crank arm. It has a cottered crank set. The handle bar grips are very sticky apparently some reaction of the plastic with age. I'm guessing the bike is from the early to mid 1970s. Really, a pretty nice bike for $2!
Schwinn | Trek | Raleigh | Bianchi | Peugeot | Motobecane | Roold | Nishiki | Fuji | Kuwahara | Giant | Univega

Nishiki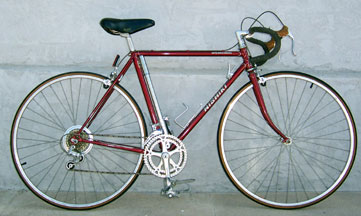 Larger image

Nishiki International (circa 1983) purchased at local garage sale for $15 on July 30, 2005. Original owner stated she bought it in 1983 for $450. The San Diego bicycle license expired December 31, 1985 consistent with this time frame. She said she just rode it that year and it has only about 250 miles on it. This approximately 24 pound Japanese bicycle is in excellent condition and was rideable after pumping up the tires. The handlebar tape and brake hoods need to be replaced. It has a 53cm (21 inch) frame with a step over height of about 78cm (30.75 inches). It has Tange Champion No.2 butted chrome moly tubing (see Desparado Cycles and Tange) with the frame "handcrafted by Kawamura." It has Suntour Cylcone M-II derailleurs, Araya 27 x 1 inch rims, Suguiro G5 crank set, Sakae Custom Road Champion handle bars, Avocet Touring I Saddle, Panaracer Tour Guard 77 x 1 inch tires (100 maximum psi), and Diacompe G side pull brakes. The rear cog set of this 12 speed ranges from 28-14 teeth. Shifting is not index and bearings are not sealed. The site yojimg.net has a 1983 catalog that includes the International. The road bikes in ascending order of weight were the Superbe (21 pounds), Continental (22.5 pounds), Competition (23 pounds), International (24.5 pounds), Landau (24.5 pounds), Olympic (26.5 pounds) and Rally (30.5 pounds). (See also bikeforums.net. My International's burgundy color was not available in 1983. My components also vary from those in the 1983 catalog. My International may therefore be a year or so before or after 1983.

Nishiki bikes were made by the Japanese company Kawamura and imported to the United States by West Coast Cycles according to a discussion at bikeformums.net (bottom entry). John E. in another bicycleforums.net discussion indicates Nishiki started off as American Eagle in the early 1970s with two models, the Custom Sport (roughly $80) and the Semi-Pro ($150). By 1973 Kawamura changed the name to Nishiki and added two intermediate models the Olympic and the Kokusai (International). The mixte tube model of the Custom Sport came later, e.g. 1975. (See also Sheldon Brown, Japanese Bicycles in the U.S. and Yahoo Answers Canada - History of Nishiki International.) The Sheldon Brown site states Nishiki later became part of Derby along with Raleigh and Univega. The Nishiki and Univega brands were retired in 2001. See also A Nishiki History. While researching bicycle company history, it becomes apparent that bicycles are big business with intriguing corporate histories and boom and bust cycles. Interesting histories of Raleigh include Raleigh in the Last Quarter of the 20th Century, bonthronebikes.com and Raleigh Bicycle History.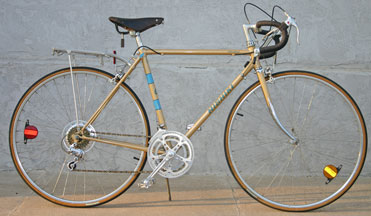 Larger image

Nishiki International (circa 1977) 53cm frame. Decal says Chrome Molybdenum frame but does not state brand of tubing or whether double butted, etc. Dia-Comp center pull brakes with "safety" or "suicide" levers. Araya 27 x 1.25" alloy rims made in Japan. Shimano hubs. "Silver Tyre" 27 x 1.125" tires, 90 PSI. Suntour Vx rear derailleur. Sun Tour SL Front derailleur with bar end shifters. 10 speed. Sugino Maxy crank and chain rings. Cycle Pro seat post. Champion Cycle Pro handle bars. SR Forged handle bar stem. Ideale 80 leather saddle made in France. Pletscher rack made in Switzerland. Pletscher Esge kickstand. Discussions at bikeformus.net state the Nishiki International started in the early 1970s and was third in the Nishiki lineup behind the Road Compe and the Competition or Professional. Roadbikereview.com has several excellent discussions about 1970s era Nishiki Internationals. A March 4, 1977 MIT newspaper has an ad for a new 1977 Nishiki International model with end shifters, chrome-moly frame, alloy rims and 90 psi tires. That description, although general, might be my year especially since it has end shifters. The sale price was $180 (over $600 in 2007 dollars) reduced from $205. Another Nishiki International, perhaps a 1976 model and without bar end shifters, was selling for $157, reduced from $175. A mid 1970s date is probably consistent with the leather saddle, 10 speeds, "suicide" or "safety" brake levers, and Suntour derailleurs. See also Nishiki International, Bicyling Magazine (October 1974). The bike was purchased at a La Mesa, CA garage sale (about 1/2 mile from where I grew up) on 6-23-07 for $25 ($40 listed - bargained to $25). The bike is in fantastic condition. All I had to do was pump up the tires, adjust the position of the rear wheel, adjust the seat height and handle bar height, lightly clean it, and adjust the alignment of the front wheel/handle bars. (The rubber rim tape on the front wheel had broken and was coming out of the deflated wheel. I patched this up first.) The tires have cracks, but two new tires were included with the bike. There are only a few nicks in the paint. The decals are all readable, although there is some cracking. There is very little rust and some slight surface rust on the fork chrome came off easily with steel wool. The leather seat is in great condition although it has a padlock on it which may require a locksmith to get it off since I do not have a key. It's heavy - about 29 pounds using a bathroom scale. That includes the rack, kickstand and lock, however. That's consistent with the March 4, 1977 MIT newspaper ad that says the Nishiki International weighs 27.5 pounds. It rides very well and is a wonderful 1970s bike!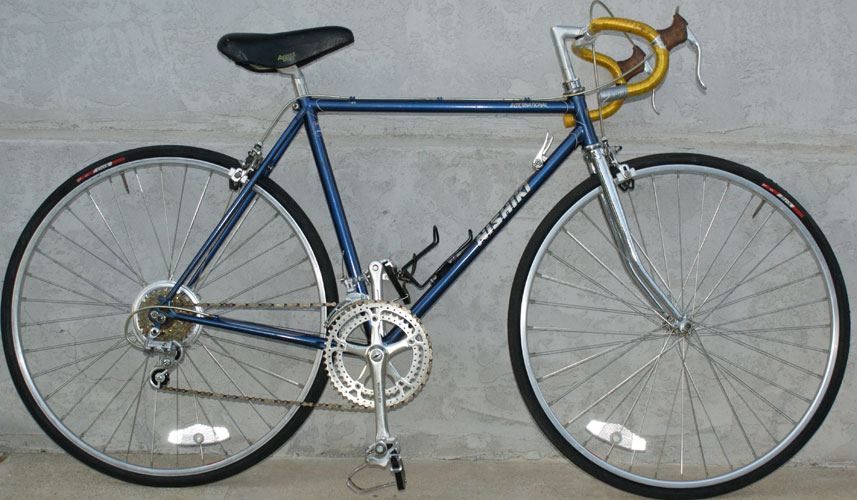 Nishiki International (circa 1983) Serial no. KC 45040. That gives it a date of 1983 according to Nishiki Serial Number Database at bikeforums.net. The K stands for Kuwamara. The C is for the final digit of the year, here 3. The red International (KC 03041) above would also be from 1983 according to that database and apparently somewhat older (the 3041st made that year vs. the 45,040th made that year). My Olympic (KG 27575) and my gold International (KG 12836) are both from 1977. My blue International has a Nishiki Double Butted Chrome-Moly Tange frame. It does not state Tange Champion No. 2 as the red one does. Both the red and blue International have similar components including Suntour Cyclone M-II derailleurs, Suntour Symmetric down-tube mounted friction shifters, Avocet Touring I saddle, Sugino GS Custom cranks, Dia Compe G-500 side pull brakes, Araya 27 x 1" alloy rims, stainless steel spokes, Sunshine hubs and quick release levers, KKT Pro Vic II pedals, SR Laprade seat post, and Sakae Custom SR Road Champion handlebars. The blue International has a chrome platted fork while the red International's fork is painted. Weighs roughly 24.5 pounds using the bathroom scale. I bought my blue International at a garage sale in the Fletcher Hills area of El Cajon, CA on 5-23-09 for $25 (listed at $30, negotiated to $25). It is in good cosmetic and mechanical condition. The paint is generally in decent shape but has several scratches which are somewhat rusted. The chain was somewhat rusted but cleaned up well. The toe clips and some of the other steel parts have some rust. The front derailleur originally was out of adjustment but now works adequately. The tires look to be almost new. The rear rim is slightly out of true. The front wheel is true. The handlebar tape was coming off. I fixed it with some duct tape. One handle bar end cap is missing and one crank dust cap is missing.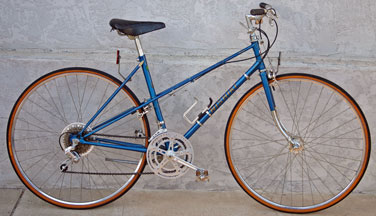 Larger image
Nishiki Olympic Mixte 12 Speed, mixte women's frame made in Japan. Mixte frames have two top tubs that run all the way to the rear drop-outs. (Sheldon Brown Glossary.) The design is stronger than a traditional "women's" bike with a single top tube. It has high tensile tubing, i.e. not chrome moly. Dating the bike is complicated. Researching the Internet, several sites talk about Nishiki Olympics from the mid 1980s with chrome moly tubing. I think this is therefore prior to the mid 1980s. Mixte tube Nishiki bikes probably started around the mid 1970s. (bicycleforums.net). It has Shimano 600 derailleurs with stem shifters. Shimano 600 is a name used for many years by Shimano, although this derailleur looks similar to, but not exactly like, a 1976 Shimano 600 ad. The lettering on the frame is similar to my gold Nishiki International that I think may be from 1977. The Schwinn Paramount that the Olympic was purchased with is also from 1977. The twelve speeds on the Olympic might indicate a later date, however. The Olympic appears to be at least one level below an International. Dia Compe center pull brakes. Araya steel rims 27 x 1.25". Sugino Maxy cranks. Cycle Pro seat post. Shimano hubs. Weighs about 30.4 lbs using a bathroom scale. Seat post height is 49 cm. In good condition. The tires are heavily cracked, but still hold air. The brakes work although the front brake is missing one brake pad. The derailleurs work well. The paint is good with some chips. It's a nice bright blue. Purchased on 6-30-07 with the Schwinn Paramount. Conclusion: A nice, likely late 70s, mixte frame bike.
Schwinn | Trek | Raleigh | Bianchi | Peugeot | Motobecane | Roold | Nishiki | Fuji | Kuwahara | Giant | Univega

Fuji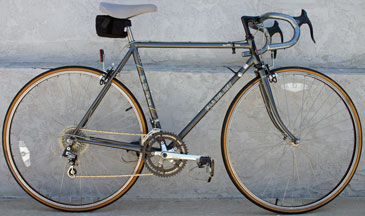 1986 Fuji del Rey (Large Image). Specification from looking at the bicycle and from www.bikeforums.net are as follows: Fuji VALite 1769 quad butted tubing, SunTour LePree derailleurs, Sugino RT 42/52T crankset (drilled for triple chainring), SunTour Winner 13 to 28 freewheel, Dia-Compe G brakes, Ukai alloy 27 x 1.25" rims, SunTour LePree sealed alloy hubs, Nitto stem, Nitto Olympiade 115 handlebars, 24.2 pounds (I got about 26 pounds with tool kit and lock bracket using bathroom scale), $350 list price. $350 in 1986 is equal to $665 in 2007 dollars indicating a quality, mid-level road bike. In the same discussion a contributor states: "The Del Rey was a great and well made Japanese bike. Superb quality and attention to detail. Easy to work on, standard British threading, great Japanese quality parts." (See also Astoria Bike, www.bikeforums.net.) The catalog page for my bike is www.classicfuji.com, a fantastic Web site for Fuji information which I just came across in February 2009.
Exactly what VALite tubing is appears unclear. A bikeforums.net discussion states: "Fuji Valite is a proprietary chrome-vanadium steel tubing." (See also oldroads.com.) I assume the VA is short for Vanadium. Vanadium is a metallic element, symbol V, atomic no. 24. Chromium (Cr) is also a metallic element, atomic no. 25. Just below chromium on the periodic table is the metallic element Molybdenum (Mo), atomic number 42. All of these appear to be used in steel to strengthen it. Vanadium is also used in Aluminum frames. Todd Downs in Bicycle Maintenance & Repair page 22-23 (5th ed. Rodale 2005) describes VALite simply as a high carbon steel. A portion of a discussion on bikeforums.net from fbagatelleblack states:
The quad-butted Valite tubing was a seamed tubeset made for Fuji by Ishiwata. Ishiwata marketed it as EXO-V. It was a manganese-moly steel alloy (similar to R531, if I remember right), and many consider it to be the first "decent" tubeset to come out of Japan at a price sustainable by the mass market.

Here is a link to an old Ishiwata catalog shot showing the tube specs:
A post at roadbikereview.com by fbagatelleblack again states:
"The EXO-V is Ishiwata's house-brandname for Valite. They were pioneers in producing high quality seamed tubing, both cro-moly and cro-vandium [Vanadium]. They were able to take advantage of the greatly improved potential for creating varied wall-thickness in seamed tubing vs. seamless. . . .[V]alite was chrome vandium [Vanadium].

Because the tubing was seamed, Ishiwata could (more or less) contour the wall thickness any way they wanted to. They could put it lots of different butts, with nice tapered transitions between the different wall thickness sections to minimize stress risers. Once they tooled up, they could just roll out the steel in sheets with the right thickness profiles, bend the sheet over a mandrel, and weld them together at the seam.
T-Mar in a www.bikeforums.net discussion states:
VaLite was reportedly a vanadium steel alloy. It was stronger than hi-tensile but not as strong as chromium molybdenum. It is commonly found on upper entry level and lower mid-range Fuji from the early 1980s. In order to control costs, lower models would often employ Valite main tubes with hi-tensile stays and/or forks, while the better models would often have VaLite forks and/or stays paired with a CrMo main triangle. Forum member Beaverstuff has reported VaLite frame with Ishiwata steerer, so these tubesets appear to have been made by Ishiwata for Fuji.
Maynard Hershon Thoughts describes the history of Fuji Bicycles in the United States and describes VALite tubing as "the first highly developed tubeset for mid-price bicycles."
The frame tubes are quad butted which is a sign of high quality. Double butted tubes have thicker tube walls at the ends with the middle thinner. A quad butted tube might be thick, thin, thick again, thin, thick. (See, e.g., Frame Materials.) The advertised weight of 24.2 pounds and quad butting indicates it is at least a reasonably high quality frame. Sheldon Brown indicates that Fuji beginning in 1971 was the first Japanese company to enter the United States bike market. He states: "The Del Rey was an excellent sport-touring bike." Classic Rendezvous has a Fuji page. When I lived in Boise in 1984-1985 I remember seriously considering buying a Fuji del Rey very similar to the one at the Marcus Wandel site. (That site also has a lot of interesting computer history information.)
My bike is in excellent condition. Very few scratches. Nice charcoal color with a lighter grey seat. It came with a Zefel pump, a "KryptoLok" lock by Kryptonite with keys, and a seat bag with a hex key, plastic tire irons and two patch kits. Purchased on 8-12-07 in the Hillcrest area of San Diego for only $25 from an ad on Craig's List. The seller was the original owner who purchased it in 1986, road it until the early 1990s when he took up running, and stored it most of the rest of the time. It required no repairs or cleaning of any kind! Great deal!
Schwinn | Trek | Raleigh | Bianchi | Peugeot | Motobecane | Roold | Nishiki | Fuji | Kuwahara | Giant | Univega

Kuwahara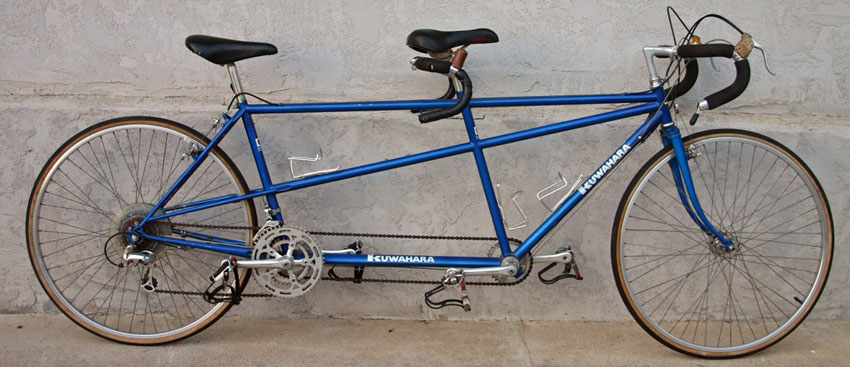 Kuwahara Tandem. (Larger Image) Japanese steel tandem road bike which according to the original owner was purchased new in the early 1980s, when the production of quality Japanese road bikes was beginning to surge. Kuwahara was started in Osaka, Japan in 1918. (History and Models. See also history in a classified ad.) Sheldon Brown states that "Kuwahara is best known for its highly regarded BMX line" which were featured in the movie ET, The Extra Terrestrial. This is discussed at the current Kuwahara BMX site. Sheldon Brown also states that Kuwahara made touring and tandem bikes, but they were not widely distributed in the United States. The Canadian Olympic bicycle team in 1988 road Kuwahara road bicycles. (Id., Cap's Bicycle Shop.) The history sites above indicate that Kuwahara made bikes for other brands sold in the United States. The frame is steel and is not lugged. While there are no stickers indicating the brand or quality of steel, it is likely TIG welded, straight gauge, chrome moly.(See waccobb.net classified ad and Tandem Corner.) The tubes may have been manufactured by Toyo Frame Co., Ltd. which, according to their history section, in 1978 started "manufacturing frames for Kuwahara's EVERYTHING tandem bicycles." Captain seat tube height is 21.25" with the stoker seat tube height equal to 19.25". The bike weighs around 44 pounds which would be relatively heavy by today's standards according to the discussion at Bike Forums. It is considerably lighter than the 1979 Schwinn Tandem Sport above at 52 pounds, however, and only 2 or 3 pounds heavier than a 1979 Schwinn Paramount Tandem. The Bike Forums discussion indicates that most Kuwahara tandems were white with a rainbow motif. "lhbernhardt" towards the bottom of a Bike Forums discussion entitled Short Tandems refres to a solid medium blue Kuwahara tandem like mine prior to the rainbow motif ones. Chris Timm - All Tandem Buiders states Kuwahara: "once built a few nice tandems; now the name belongs to Diamant, who sell Kinesis-made tandems under that label." My bike came with a generic owner's manual with a Kuwahara cover. The original handwritten price tag says "Kuwahara Tandem 21 1/4 x 10 1/4, $1650." Adjusted for inflation today's price would be at least double. It is an 18 speed with three front chain rings. The front derailleur is a Suntour Arx with a Shimano 105 rear derailleur which the owner said may have been a replacement for an original Suntour rear derailleur. It has Diacomp cantilever front and rear rim brakes and a rear drum brake. One brake lever controls both the front and rear cantilever brakes while the other brake lever controls the rear drum brake. Rims are Ukai 27 x 1 1/8 inch alloy made in Japan. The crankset is Sugunio. It is in good shape with only a few scratches to the paint. It was stored indoors except for part of the past year according to the owner. There is therefore some rust on the front spokes which do not appear to be stainless steel. Wheels are true. Tires are in good shape. The bar mounted shifters work well. The brake hoods need to be replaced. Purchased for $150 in the Point Loma area of San Diego on December 9, 2007 from an ad on Craigslist. Overall it seems to be a serious, vintage tandem at a good price.
Schwinn | Trek | Raleigh | Bianchi | Peugeot | Motobecane | Roold | Nishiki | Fuji | Kuwahara | Giant | Univega

Giant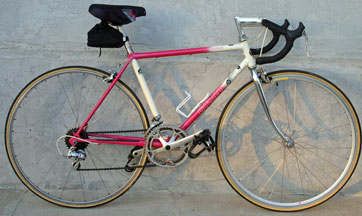 1987 Giant RS940 (Large Image). Date approximate. Made in Taiwan. Giant is indeed a giant Taiwanese bicycle company established in 1972 according to Wikipedia. It originally made bikes for other manufacturers including Schwinn. Taiwan was a huge supplier of bicycles by the 1980s. Now China is by far the largest supplier of bicycles. According to Wikipedia Giant now has production facilities in Taiwan, China and the Netherlands. This 12 speed bike has a 4130 chrome moly tri-butted frame with Shimano SIS indexed derailleurs, Shimano SRT brakes, Shimano Biospace chainrings and crankset, Araya 700C rear rim, EOS! 700C front rim with a very deep profile, Joytech sealed hubs, and Forte alloy stem and handlebars. The bike is quite small with an 18 inch/ 46cm frame (seat tube) and about a 29 inch standover height near the seat (top tube slopes). The effective size is somewhat larger due to the sloping top tube. Giant was a pioneer with the sloping top tube and currently calls it their compact road design. That page has a table to convert to traditional seat tube sizing. At least as presently outfitted, the bike is small for me and my wife. It is relatively light - about 24 pounds using the bathroom scale. The bike is in very good condition. I pumped up the tires, lubricated the chain and adjusted the seat as high as I could. It was then ready to ride. The Avocet Spenco Gel W20 seat has a torn part in the rear and the cover is coming off. It looks as if the cover can be refitted, however. I think it is a women's designed seat and given the bike's pink color and small size, it was likely marketed to women. Purchased on 9-23-07 in the Carmel Valley area of San Diego for only $20 from an ad on Craigslist - a great deal. I subsequently donated it to another cyclist and curator.
Schwinn | Trek | Raleigh | Bianchi | Peugeot | Motobecane | Roold | Nishiki | Fuji | Kuwahara | Giant | Univega

Univega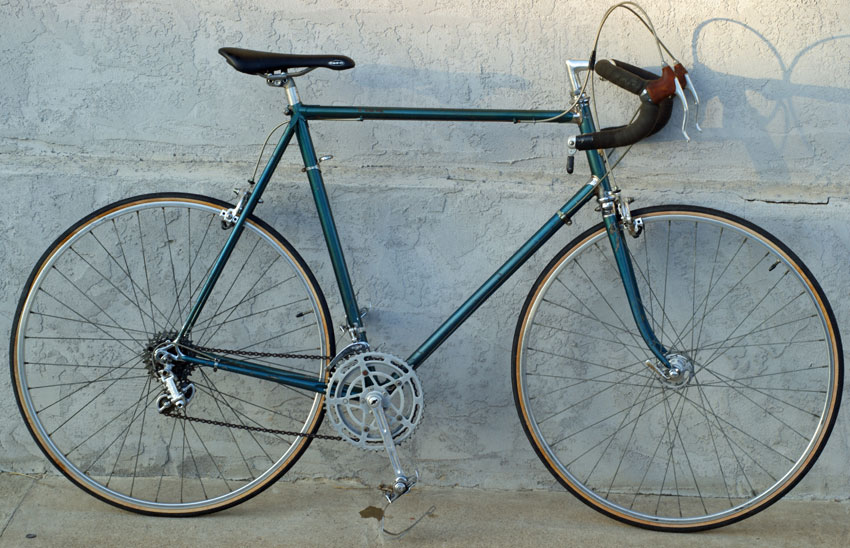 Italvega Super Record (?) (circa early 1970s) (Large Image, Front End) The bike was repainted at one time and hence there are no decals on it identifying the model. There is a gold Italvega name plate on the front of the head tube. The serial number on the bottom of the bottom bracket is 5857 (the 8 is hard to make out). A Bike Forums post indicates the four digit Italvega serial numbers were from 1974 or before. Sheldon Brown indicates Italvega bicycles may have been made from the very early 1970s until about 1977. This means my bike was likely made from 1970 to 1974. According to the Wikipedia article on Italvega the bicycles were imported and marketed by Lawee, Inc., headquartered in California, and created by Ben Lawee who had emigrated to the United States from Iraq. The Italvega bicycles were designed and hand-built in the Torresini workshop at the Topado bicycle factory in Padua, Italy. By 1977 or so, Lawee started to import the bicycles from Japan instead and hence the name was changed to Univega. Bulgier.net has photos of the 1976 Italvega catalog. The catalog lists the following models from apparently lowest price to highest price: Viva Sport, Viva Sport Mixte Frame, Nuovo Sport, Super Record, Super Speciale, and Super Light. The Super Record, Super Speciale and the Super Light are the only models with Campagnolo components. The Super Record is the only bike with chrome lugs. My bike is likely two to six years older than this catalog. If the general model line-up remained the same, I'm guessing my bike with Campagnolo components and chrome lugs is a Super Record. It looks similar to the 1973 Super Record at PedalRoom. That bike has center pull brakes, however. (Actually, I later came across a March 1973 Bicycling Magazine with a Super Speciale with chrome lugs. That bike had a list price of $395, or about $2,000 in 2011 dollars! It weighed only 23 pounds for a 23 inch frame.) My bike has a 63cm seat tube length, the largest that was available in Italvega bicycles. I have short legs and usually take around a 53 or 54cm bike. While I no longer have a tubing sticker on mine, the Italvega bikes with Campagnolo components all had Italian Columbus double butted chrome molybdenum steel tubing. Mine has Campagnolo dropouts. My derailleurs are Campagnolo Nuovo Record (front, rear). I have Suntour bar end shifters. The 1976 catalog does not have any bikes with bar end shifters and hence I think the bar end shifters were added to my bike at a later date. The bike is a ten speed consistent with its early 1970s vintage. The bike also has Campagnolo hubs and a Campagnolo seat post. The 27 x 1.25" alloy rims are Weinmann made in Belgium. It has a Stronglight (France) crankset and Stronglight Competition headset. It has Lyotard pedals made in France. The handlebar stem is 3ttt made in Italy. The handlebars are Cinelli made in Italy. The bike has Gran Compe side pull brakes. I think Gran Compe (or GRANCOMPE) is the high end series for Dia-Compe, an Asian component maker. I bought the bike without a saddle. The seller said that it had a Brooks (England) saddle and if he found it he would call me. For a high end bike it is relatively heavy at about 26.5 pounds using the bathroom scale. The weight is likely not surprizing, however, since it is a large frame and it is from the early 1970s. I put on another saddle I had. The bike was quite dirty and greasy. It cleaned up well, however. The paint job is fair. There are numerous spots with missing paint and rust. The chrome lugs have some rust. I have not tried to remove all the rust from the lugs but a lot came off with a general cleaning. With some effort, the chrome lugs could likely be cleaned up. I purchased the bike on August 20, 2011 for $25 on Willis Road in the Fletcher Hills area of El Cajon, CA. It came with three extra tires and two racks. It is in good mechanical shape. It shifts well. One of the pulley wheels in the rear derailleur is cracked. The brakes work well but could use tightening. The tires (27 x 1") are fairly new and in good shape. The rear tube is not holding much air, however, and needs to be replaced. The seller said he got the bike used around 1978, the year he graduated from high school. He said he traveled around Europe on the bike and used it until about ten years ago. The bike is a great addition to my collection. I got the Univega below only about a month earlier. This is my fourth bike with Campagnolo components the other bikes being the 1976 Paramont, the early 1970s Raleigh, and the Schwinn Sports Tourer.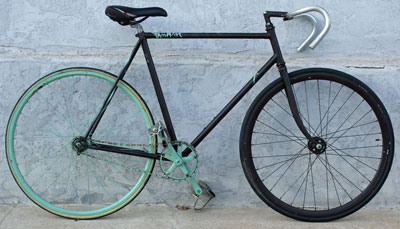 1983 Univega Sportour (?) Converted to a Fixed Gear Bike (Large Image) My best guess is this is a 1983 Univega Sportour or perhaps 1983 Univega Viva Sport as explained below. It was purchased at a garage sale in the Fletcher Hills area of El Cajon, CA in July 2011 for $5. It had been converted to a fixed gear bike. The handlebars, pedals and hex nuts holding the rear wheel on were missing. The model and other details are bit of a mystery since the seller's son repainted the bike a dark flat brown with other portions a light green. The paint job included the tires, chain, rims, spokes, hubs, crankset, seat post, and handlebar stem. Curiously, these parts never need paint. I'm not sure what effect the painter was attempting to achieve. Perhaps, he simply wanted a bike that was less likely to be stolen. I identified it as a Univega since underneath the paint on the down tube you can ever so slightly make out the distinctive Univega logo with its angular all capital letters with multiple lines making up each letter segment. I can't see any other decals. The serial number is L925643. According to the discussion at bikeforums.net the L in the Miyata coding system means that it is from 1983. As explained below, Miyata made frames for Univega.
I searched the Internet for "1983 Univega." Lakeviewman - 1983 Univega Sportour has nine photos of a 1983 Univega Sportour. (See also 1983 Univega Sportour at mtbr.com.) The frame details look identical to mine. For example, it has a brazing for the shifters on the top of the down tubes - not on the sides. It has brake guides on the top tube. It has brazed on derailleur cable guides on top of the bottom bracket. It has two water bottle cage mounts on the down tube. Every lugging detail looks identical. The fork looks identical. Additionally, it has a Super Custom crankset and a Custom handlebar stem like mine. The seat post looks the same. Based on this I'm guessing my bike is a 1983 Univega Sportour. The frame sticker on that bike indicates the frame is double (or triple?) butted Tange Champion Chrome Molybdenum. That bike also says it was made in Japan. A distinctive feature of my bike is that the shift levers sat on top of top of the down tube. Most other Univega models I came across have them on the side of the down tube. See, e.g., 1983 Univega Specialissima, 1983 Grand Turismo (derailer levers on side), 1983 Univega Viva Touring (shift levers on side), Univega Grand Primo (as best I can tell, shift levers on side), Flicker - Several Different Univega Models, Univega Super Strada. However, the 1983 Viva Sport at cyclofiend.com also has the shift levers on the top of the down tube, although it is hard to see all the other details in that photo. Mine might therefore instead be a Viva Sport. Univega had a lot of models, however. Therefore it could also be some other Univega model.
According to Univega - Wikipedia, Univega was "created during the bike boom of the 1970s by Ben Lawee," an immigrant from Iraq. He "founded Lawee Inc. to design, specify, and import bicycles initially manufactured in Italy by Italvega, and subsequently in Japan by Miyata." (Id.) Lawee had created the Italvega and Bertoni brands manufactured in Italy." (Id.) "In 1996, the parent company of Raleigh Bicycle Company, Derby International, absorbed Univega along with the Nishiki brand of bicycles." (Id.) I bought a new 1998 Univega 700 FS mountain bike indicating that Derby continued to use the Univega name. According to Sheldon Brown, Derby retired the Univega and Nishiki brand names in 2001. While I do not hear of Univega much today, there is a current Web site for Univega, with the slogan "Ride It Your Way" which, according to Univega - Wikipedia, was a tagline developed by Lawee. My impression of Univega in the 1980s was that they made quality, good value bikes.
The bike was likely originally a twelve speed. It was converted by a prior owner to a fixed gear single speed bike. The axels would have been originally designed for quick release. Today the bike has solid axels with the wheels attached with hex nuts. There is no freewheel. The bike therefore does not coast. There are no brakes. The bike did not come with pedals, a handlebar or hex nuts for the rear wheel. I put on some old handlebars I think I got free in a box of bike parts from a garage sale. I put on some cheap pedals from another bike. I got some hex nuts (M10-1.0) from Home Depot. The rear wheel was originally for a multiple speed bike and might be original. The single cog is now on the opposite side where the freewheel body and cassette had been. I guess I could put a freewheel body and single cog back on where the freewheel and cassette had been creating what I believe they call a flip-flop wheel. In other words, as it is now, you cannot coast. But if you flipped the wheel over and had a freewheel body and cog, it would then be a single speed bike that coasts. A single speed bike that coasts is like the bikes we road as a kid. If your bike is "fixed" - i.e. you can't coast - you must continually pedal. It is like the tricycles we had as kids. Many fixed bikes do not have brakes. You can slow down by pedaling slower and eventually stop pedaling. You cannot stop as quickly as with brakes, especially a front brake, however. Single speed bikes that have a freewheel - i.e. they can coast - definately need brakes. The bikes we had a kid frequently had a rear coaster brake. You pedalled backward to engage the brake. Multiple speed bikes have to have hand brakes instead. Front and rear hand operated brakes, especially with alloy wheels, stop much faster.
Fixed gear bikes (and tricycles) were traditionally limited to three uses. First, kid's tricycles. Kid's tricycles don't coast. Little kids go pretty slow and they can stop by pedaling slower or putting their feet down. Second, track bikes. One gear and no brakes mean minimum weight. If you want to stand still, don't petal. If you want to go fast, pedal like crazy with the one high gear you have. Third, since you have to continually pedal, they have been used for training. In recent years, however, fixed gear bicycles have become much more popular. (See generally Fixed-gear Bicycle - Wikipedia; Sheldon Brown.) It is part of urban culture now, I think in part to bicycle messengers often using fixed bikes. Most major manufacturers now have a selection of fixed bikes. The book, Fixed: Global Fixed-Gear Bike Culture available at amazon.com, is devoted to fixed gear bicycles. My nice 1980s twelve speed road bike was likely acquired by a hip young guy who decided to make it into a hip, urban, camouflaged "fixie." I think multiple gears, freewheels and brakes were wonderful inventions in the history of the bicycle, however, and would have preferred that the bike be left in its original form. For $5, however, I have the first Univega road bike in my collection and had an opportunity to try out fixed bicycle riding. Indeed, I successfully road around my block without killing myself. It's difficult to slip into the toe clips since usually you flip up the second toe clip while coasting. I instead lunged myself over to a stop sign and held on while flipping up the second toe clip. When you get up to speed you natural reaction is to coast. On a fixed bike you get jerked around a bit because you can't coast! I had to really anticipate when I wanted to slow down by pedaling slower. You do get a good workout because you can never just relax and coast. Overall, the experience confirmed to me how wonderful freewheels, gears and brakes are! Coasting in life every so often is a good thing.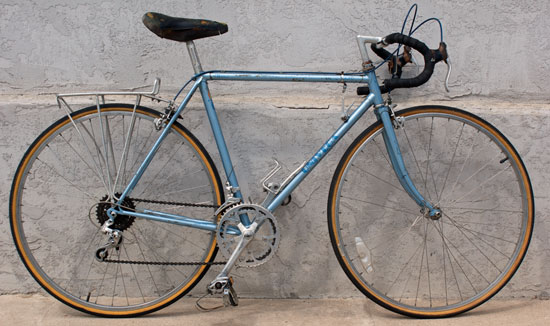 1985 Univega Nuovo Sport, (Large Image) Serial no. NE44293 which appears to mean it was manufactured in 1985 according to the coding system described at bikeforums.net. That is also consistent with the number 0185M on the Japanese DiaCompe brakes indicating they were made in January 1985. While the decal is faint, it is clearly labeled as a Nuovo Sport. On the top tube there is a decal stating "CTB Chromoly Triple Butted Frame, Mangalight fork." I assume Mangalight is a manganese steel alloy. There is no tube manufacturer decal on the seat tube although there is a decal stating "Made in Japan" and "Lifetime Frame Guarantee." The bike has Araya 27 x 1-1/8 inch alloy rims with stainless steel spokes. It has Suntour Arx front and rear derailleurs. The rear cassette has six sprockets making this a 12 speed. It has SR handlebars and a "Signature" crank. There is a decal on the chain stay stating "Lawee Design." As indicated in the entry above, Univega bikes in this era were designed by Ben Lawee and manufactured by Miyata according to Lawee's specifications. The recreational road bikes made by Miyata at the time also had "no name" "Chromoly Triple Butted Frames," "Mangalight" forks, and "Signature" cranks. For example, this bike is similar to the Miyata 110 in the 1985 Miyata Catalog. I could not find a Univega road bike catalog on the Internet. The Nuovo Sport was likely one or two up from the bottom of Univega road bikes and one or two below the Sportour above. It weighs about 26 pounds using by bathroom scale. The frame size is 53cm (21 inch) as measured from the center of the crank to the top of the seat tube. Just my size! I purchased my Nuovo Sport for $10 on July 28, 2012 at a garage sale near 70th Street and El Cajon Boulevard in San Diego. Included was a wind trainer that the bike was mounted on. The bike was very dirty and greasy. It also must have been outside for part of its life since it has several areas of rust. The front wheel was off the bike and did not have an inner tube. The tube strip was also deteriorated. I put on new tube tape and a new tube. Both tires hold air and have a lot of tread life left, although the sidewalls are very cracked especially on the rear tire. The front brake was badly toed in. I was able to bend it back to its proper position. The front brake adjustment wheels appear to be stuck. The bike shifts fine. The seat covering is falling apart although the seat is still functional. After a good cleaning and minor lubricating, the bike is quite ridable and a great "beater bike" that in my humble opinion is much better quality than many new department store bikes. Bikes are machines that can easily last several decades. The key is to not leave them outside and to do some simple maintenance. While technology in high end bikes advances, this bike is much more efficient that popular "beach bikes" today which sacrifice efficiency for retro styling patterned after poorly designed kids bikes of the 1950s. For an upright design, there are often great garage sale deals on mountain bikes without shocks from the 1990s.
Introduction (Top) | Road | Hybrid | Mountain | "Racer" | Speciality | Kids
Hybrid Bicycles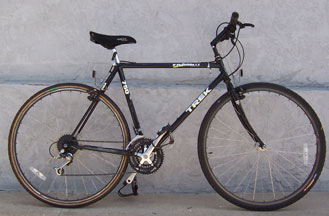 1991 Trek 750, made in Waterloo, Wisconsin, this was my daily compute bicycle for several years. It's actually a 1991 Chrismas present to my wife. Specs: True Temper (USA) AVR chromoly double-butted frame tubes, True Temper chromoly fork and handlebars, Suntour XCE derailers, 21 speeds, Dia-comp XCE brakes, Matrix Titan Tour 700c black rims, Vetta VSA saddle. This is a wonderful, reliable bike.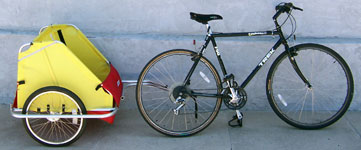 1991 Trek 750 with Burley Cart, cart made in Eugene, Oregon, home of the University of Oregon Fighting Ducks. We bought this as the same time as the Trek 750 to cart around my, at the time, young sons.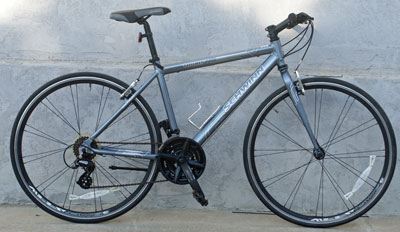 Schwinn Tourist (Large Image) Circa 2009 hybrid Schwinn Tourist bicycle. The Tourist name has been used by Schwinn for decades. It has usually been an English racer design or a drop handlebar road bike. Unlike Schwinn bikes of yesteryear, this one is sold in Target department stores and is made in China instead of the United States. The Target Tourist bikes were silver or grey, red last year, and back to silver or grey this year. While I have always steered away from department store bikes, I was impressed because it seemed to be a decent hybrid with a functional design at a decent price. It generally sells new at Target for around $260. It comes in only one size. It weighs in at 27.3 lbs using my digital luggage scale. It has 3x8 Shimano gearing, 700C alloy rims, and linear pull brakes. The frame is Aluminum and the fork is steel. (It doesn't say the fork is steel, but a magnet sticks to it.) I was guessing the bike was about three years old. The seller said it was probably more like four or five. It is in decent shape. It was left outside so the chain and rear cogs are rusted. I cleaned the bike and put Tri-Flow lubricant on the chain and cogs. There is a ding on the downtube. It is relatively small and there is no sign of cracking. I adjusted the brakes and they work well. The rims are very true. The front derailleur needs some adjusting since the chain rubs somewhat. The tires are good. I bought it from an ad on Craigslist in Spring Valley, California for $60 with a helmet on October 27, 2013.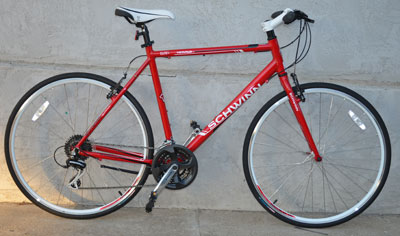 Schwinn Herald (Large Image) I purchased this new on Friday, January 31, 2014 at the Target on Balboa in San Diego. The original price was $369.99, quite expensive for a department store bike. It is part of the "Elite" Schwinn series sold at Target stores. The Herald is not not listed at the Schwinn site. There appear to be the Schwinn bikes sold at dealers and then other models sold only at Target or perhaps other department stores. I first looked at it on Monday January 27, 2014 when I was buying beach balls for a school project. The Herald was on clearance for about $185 (i.e. about half price). That sounded like a great deal, but I figured I have a lot of bikes including the recently acquired Schwinn Tourist above. I went back on Friday evening on my way home from work just to see if it was still available and thinking perhaps they reduced it even more. They had! The price was now $110.98, a 70% reduction. (In my experience, 70% off is Target's final clearance price.) With my 5% reduction using my Target card, it was $105.43. 8% sales tax added $8.43 for a total price of $113.86. That price was just too good to pass up for a pretty nice bike. I have not seen the Herald at my local Grossmont Center (La Mesa) Target store. I haven't observed bikes on clearance at the Grossmont Center store either.
The bike has an approximately 21 inch frame measured from center of the bottom bracket to the top tube. I have short legs and just comfortably clear the top tube while standing over the bike. It fits better than the Tourist which is on the small size for me. The Herald is a higher quality bike than the Tourist which is itself a decent bike. The frame and fork are Aluminum. The fork on the Tourist is steel. While larger than the Tourist it weighs nearly a pound less. Using a luggage scale, it weighed in at about 26.5 pounds. That's not super light, but not bad for hybrid and really good for a department store bike. It has a Shimano 24 speed Altus drive chain that shifts quite accurately and smoothly. It has Promax alloy linear pull brakes which seem to work fine. It has "Schwinn" alloy 700c rims. No further description is given. The rims are painted white. (I would have just left them as is.) The spokes appear to be stainless steel. The tires are 700 x 26c Kenda Kontender with a maximum pressure of 125 PSI which is quite good for modestly priced hybrid. The saddle is a WTB Sport Saddle. The Herald has "ergonomic Velo dual density grips" which indeed are much better than the grips on the Tourist. The better grips combined with a better fit means my hands aren't becoming numb which happens when I ride the Tourist. The headset and stem are no-name Schwinn, but appear to be alloy. The handlebars appear to be steel. The bike was actually set up well. The brakes and derailleurs were reasonably well adjusted. I just added air to the tires and adjusted the seat height. After several modest rides I have not had any problems. Set-up is an issue with department store bikes. For example, when I first looked on Monday there were two Herald bikes. One had a very sloppy headset. I'm guessing something was missing or the star nut was not properly attached. Luckily the bike left on Friday was the one with the properly adjusted headset. In conclusion, this bike was a terrific deal and a great riding bike that I could not pass up.
Introduction (Top) | Road | Hybrid | Mountain | BMX/Other
Mountain Bicycles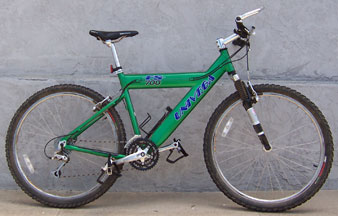 1998 Univega 700 FS, 7005 Aluminum frame, Rock-Shox Indy S shocks, 24 speeds, Shimano STX RC derailers, Weinman double wall rims, Selle Stratos Hypre Pro saddle, Tektro brakes. While I use the Trek 750 hybrid and the Trek 560 road bikes much more, this is a fine bike. It rides great, is very cool looking and is green - my favorite color. New cost $400.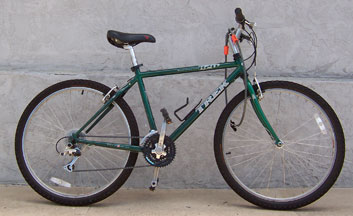 Trek 820, a good, basic chromoly, USA made, mountain bike, purchased new in 1987 for my older son. New cost $300.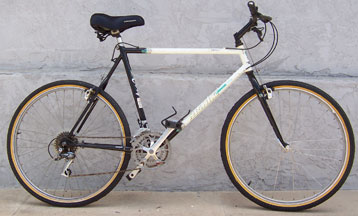 Nishiki Colorado, Tange double butted Cr-Mo frame, Tange 4130 Cr-Mo fork, Shimano SIS Drive System, Mountain LX front derailer, Exage Mountain rear derailer, Araya 26"x1.50" HF RX-7 rims, sealed Joytech hubs, Selle Stratos Hyper Plush saddle. Purchased at neighborhood garage sale in 2004 for $20. Bike is in decent condition. There was some surface rust. After cleaning and lubricating the chain, it runs well. I'm not crazy about the ride, however. Perhaps the overly plush seat is to blame.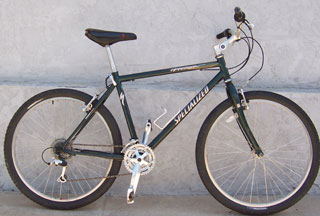 Specialized Hard Rock, Cr-Mo tubes and fork made in China, Shimano "A" derailers, SRAM MRX comp grip shift, 21 speed, Weinman 519 26"x1.5"rims made in USA, Aluminum stem and handlebars. shimano FH-RM10 hubs. Acquired from neighborhood garage sale. Price was $25, but seller was an OLG parent who gave it to me without charge! Good condition. Rides well. I put well over 100 miles on it the Summer of 2004 commuting to my Web Publishing class.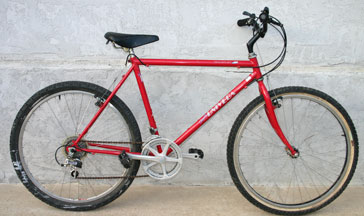 Univega Rover-ST, (circa 1986) Date is from a mtbr.com discussion in which one participant refers to getting a Univega Rover-ST in 1986, his first true Mountain Bike, which he indicates by today's standards is a hybrid. Purchased at a local garage sale around May 2007 for $5. Coincidentally, I purchased a Rover typewriter at the same garage sale - no relation! The bike had two steel wheels, one only 24 inches! Neither appears to be original. The rear wheel in the photo is from the Specialized Hard Rock above. Seat is also not original. Chrome moly frame. It's an okay bike which should do fine once I get some alloy wheels for it.
Introduction (Top) | Road | Hybrid | Mountain | "Racer" | Speciality | Kids
English Racers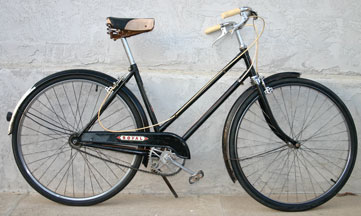 1960 Royal Three Speed "English Racer", (Large Image.) an internal three speed Dutch bike in the "English Racer" style. Year is from the Sturmey Archer AW hub. Under the name on the seat tube is "dph D.P. Harris HDW & MFG Co., Inc. Since 1895, New York, NY." On the emblem on the headset it says "Made in The Netherlands." Therefore, it appears this bike was likely made by a Dutch company and sold under the name Royal for D.P. Harris. I do not know what Dutch company made it, but two large Dutch bike manufacturers are Gazelle and Batavus according to Cycling in the Netherlands. The Netherlands is noted as a country of bicyclists where the population uses bicycles for daily transportation. It helps that the country is flat! The utilitarian "English Racer" style bike is still used by many in the country where the focus is on reliable transportation. (While commonly called "English Racers," Sheldon Brown points out they are not racing bikes and he says it is "foolish and ignorant" to call them racers.) D.P. Harris sold or made popular "Rollfast" bikes including the highly sought after "HopaLong Cassidy" complete with Western saddle bags and streamers. A 1951 "HopaLong Cassidy" is displayed at the National Bicycle History Archive of American. One selling on eBay as I write this is going for $1,400 with over three days of bidding left. My bike was purchased from a Craig's list ad on 7-29-07 for $30 in La Jolla, CA together with the Rudd bike also for $30. The seller had purchased it at a garage sale with the idea of using the handlebars and other parts in connection with a recumbent bike he was building. The seller was quite adept at fabricating recumbent bikes from old bikes. My Royal had a lot of rust on the handlebars, rims, chainrings and other exposed parts. Much of it cleaned up with bronze wool and a solution called "A Must for Rust" containing phosphoric acid. Some still remains, however, and there is some pitting. The frame, fork and fenders also have significant rust. Luckily it doesn't show up at a distance since it tends to blend into the black paint. Despite the rust, the bike runs quite well. The rust also gives the bike a nice patina! All gears initially worked, but after I cleaned the bike and put more oil into the gear hub, the bike won't shift into first. The seat post was too short, so I traded it with the seat post from the Rudd. The seat and everything else appears to be original. The serial number, 24663, is on the bottom of the bottom bracket. The Weinmann Junior side pull brakes work well. The 26" x 1 3/8" tires are replacements in good condition. The bike rides very well and should be able to go another 47 years or so!
1950 Rudge,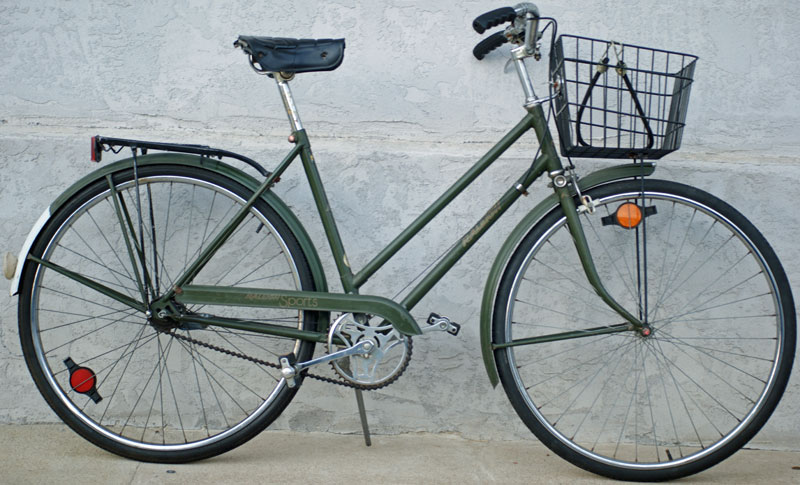 1974 Raleigh Sports DL22 L Classic English "racer" that Sheldon Brown calls "the flagship[] of the Raleigh line of utility bikes" considered in many parts of the world the "ultimate in human-powered transportation." They were "serious vehicles" often used by the rider as his or her "primary means of transportation." These bikes were made for decades with only minor changes. The frame is high tensile 2030 steel. The rims, and just about every other component, are also steel. This ladies version has a three speed Strumley Archer hub with a coaster brake. I dated the bike from the 74 date on the hub. In addition to the rear coaster brake, it also has a front hand brake. The seat is a vinyl coated mattress seat that appears to be original. Earlier versions often sported a beautiful Brooks leather saddle. Mine was purchased at a garage sale in the San Carlos area of San Diego for $15. The seller was the second owner. She was a refugee from Vietnam I assume in the 1970s. Her sponsor gave it to her. The bike is in very good condition for its age. It looks like it was garaged and not left outside. The rear rim does have some significant rust with some pitting. The majority of the rear rim is in pretty good shape, however. The front rim has just a little rust and would probably clean up very well. The paint is in nice condition for the age of the bike. It may have oxidized somewhat, but then again the classic "bronze green" Raleigh color is pretty dull to begin with! There are some minor scratches with no significant rust to the frame. The tires appear to have been replaced in recent years. The gears seem to work - poorly at first, better when I put oil in the rear hub. It should make a nice bike for my wife. She is not the bike enthusiast that I am and should enjoy the upright ride, the mattress saddle, and the rear coaster brake which is somewhat unique for a multi-speed bike. This bike can be used for several more decades.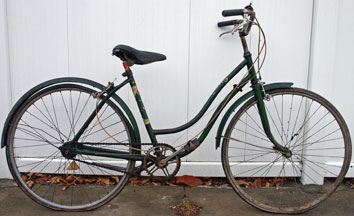 Steyr 3 Speed, (large image) On 4-19-07 I found this bike next to the street in front of a house in my neighborhood along with an old 10 speed, both ready for disposal I believe. I asked the guy in the garage if I could have it and he said yes. I asked him how old it was and he said 1963. I'm not sure how accurate that is, but it seems plausible. It is made in Austria. According to Wikipedia, Steyr-Daimler-Puch was a large manufacturing conglomerate broken up in 1990. According to the Wikipedia article Steyr started making rifles in 1864, bicycles in 1894 and cars in 1915. Wikipedia states: "In 1934, Steyr merged with Puch and Austro-Daimler to form Steyr-Daimler-Puch." Bicycles were sold under both the Steyr and Puch names at various times. Motorcycles and motor scooters were sold under the Puch name. The company produced the Mercedes Benz G class vehicles. (See candiandriver.com.) A detailed MIT article with animated diagrams shows how three speed internal gear hubs work. Three Speed Bicycles is a great site for more information including present day internal hub bikes. The site's author's second bicycle was an Austrian (Steyr?) three speed sold under the Sears J.C. Higgins name. My bicycle is serial no. 3562680. Syria hub and Weinman Type 810 brakes. I can't see any name on the rims. The bicycle is in terrible condition. It has a lot of rust! (See crank for example.) I cleaned it and put Tri-Flow lubricant on the external parts. The tires are shot. On the plus side the frame looks straight and the wheels are true. I think it sat outside under a tree for many years. I will be working on it more.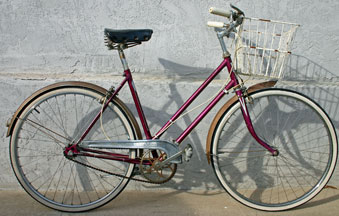 Senator 3 Speed, (large image) internal 3 speed. Purchased at a garage sale for $5 in La Mesa, CA on Sunday 4-22-07 which happened to be Earth Day - a great day to buy a bicycle! It had multiple price signs on it going from $25, to $20 to $10. I offered $5. It had a child carrier on the back and the lady said she used it with her daughter who is now 14. It dates back much further than that, however, since it also has a City of Los Angeles bicycle permit expiring in December 1975. My bicycle was made in Japan. It has a "333" rotating grip shifter. The rear hub states "333, Three Speed Hub FA," US PAT 3021728. That patent was issued to Shimano on 2-20-62. A discussion on bikeformus.net indicates that these Shimano hubs were used on Huffy bicycles (See also oldroads.com) and apparently the Fuji Avalon 3 speed bicycle. Oldroads.com refers to a Steyr Road Racer having the same hub. An aol forum refers to a Woolworth's Woolco 3 speed made by AMF with the same hub. I assume the Senator was some department store brand. The serial no. is F5J07711. (The F might be an H or something else.) The bike is in good condition. Most of the purple paint is still there although there are many scratches. The fenders and chainrings have a lot of rust. The rims are Ukai 26 x 1 3/8 inches. The tires are "The Silver Star Tyre." The tires still have a lot of tread and hold air. The tires have a lot of cracks on the side, however. I cleaned the bike and put Tri-Flow lubricant on the chain, in the hub and on other working parts. Everything works reasonably well and I was able to take on a trip around the neighborhood. It is in much better shape than the Steyr, although the Senator was, of course, $5 more than the Steyr!
Introduction (Top) | Road | Hybrid | Mountain | "Racer" | Specialty | Kids
Specialty Bikes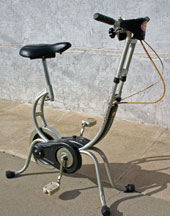 Carnielli Cyclette Stationary Bicycle, (Large Image) a vintage stationary bicycle made in Italy. Very cool! Purchased at a La Mesa, CA garage sale two houses from my house on 4-14-07 for $10. I'm still trying to check on the age and details. Drop me an e-mail if you know about it. I'm guessing it's from the 1960s. On the same day I purchased my Bianchi Italian bike (see above). The timing for the stationary bike was perfect. I had knee surgery for a torn medial meniscus nine days earlier and in my follow up visit the day before the garage sale the doctor said to exercise the knee using a stationary bike! It seems to be a high quality bike with a large solid metal rear wheel. It is in excellent condition.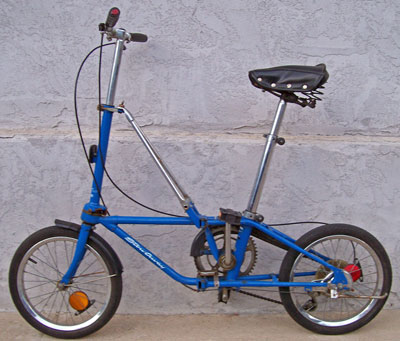 Dahon Stowaway Folding Bike, (Large Image) (alternate spelling - Dahon Stow Away) Dahon is located in Los Angles with bikes built overseas. This bike was built in Taiwan. Dahon was founded by physicist Dr. David Hon in 1982 according to the History section at the Dahon Web site. This appears to be one of the early Dahon bicycles with the chrome piece coming from the body supporting the handlebar stem. It might be from 1986 since the serial no. starts A86 . . ., but I don't know if this is really a date code. (E-mail me if you know.) Curiously, the only date information I could get on the Internet is that NYCEWHEELS has a photo of actress Winona Ryder sitting on a vintage Dahon that looks similar to mine while making the movie Beetlejuice. Further research indicates that Beetlejuice came out in 1988. My best guess is that this bike is from the mid to late 1980s. The frame appears to be welded steel. It has an one piece steel Ashtabula crank. It is a five speed with a Shimano Tourney derailleur. It has a single hand brake which operates a rear "Silent Super 80 Primary Brake" which I could not find any information on. I assume it is some sort of drum brake. The bike weighs about 30.5 pounds using the bathroom scale. It has chromed steel 16 inch wheels with 16" x 1.75" inch tires with a maximum pressure of 50 psi. Its seat post is very long and telescopes with two sections. The handlebar stem telescopes down and then folds down. The frame also folds in half. All of this creates a very small package. It is in decent condition with a little rust. The paint is generally good. The decal is cracking. The gears are not working. I think the gear lever may just be sliding around the handlebar or there is too much slack in the derailleur cable. The brake works well but I'm not crazy with just a rear brake. I purchased it from an ad on Craigslist on 1-1-08 for only $15, the advertised price, in the Fletcher Hills area of El Cajon, CA, and only about 3 miles from my house. All in all it's a pretty neat bike for the low price. While the frame and components are pretty much all low end, it is one of the earlier Dahon designs and Dahon is one of the leaders in folding bicycles. While I would not set off on a long tour with it, it rides reasonably well. It also folds to a very small package.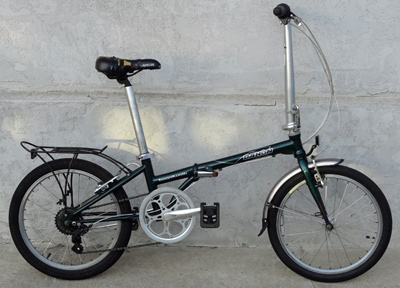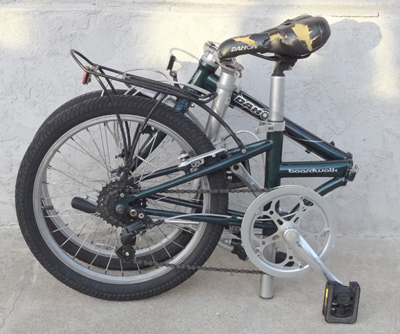 2005 Dahon Boardwalk 7 Speed Folding Bike, (Large Image)(Folded Large Image) Frame is 4130 Chromoly steel alloy, butted and TIG welded. The bike is "designed in the USA" and manufactured in China. It has an SR Suntour 7 speed rear derailleur, Promax V brakes, Sugino crank arms, and Weinmann Zac 20 1.5/1.75 Aluminum alloy 20 inch rims (ETRO 460X20 6061-T6 Safety Line). The gear shift is a twist 7 speed MaxComp. I'm assuming it's a 2005 since it matches the photo at Foldingbikes.com.au which lists the specifications. That site lists the weight as "11.8 kg (25.9 lbs.) base model w/o options." I weighed mine with a luggage scale and got around 31.5 pounds - i.e. heavy! That includes the rear rack and front fender. My bike does not have the rear fender that probably came with it new. My tires are 20 X 1.75 front and 20 x 1.95 rear. The stock tires were "Kenda 20" x 1.5", high pressure 65 psi, skinwall." That might account at least in part for the extra weight. I'm guessing the rear fender was removed to accommodate the wider rear tire. I replaced both tires with two new 120 psi 20" x 1.5" Arisun XLR8 lightweight folding tires that come on the Zizzo Liberte folding bike. I purchased the tires with new tubes for $30 on eBay. I had to replace the front tire since it had a cut that exposed the inner tube. Since I could get the pair on eBay for a reasonable price, I also replaced the wide rear tire. Replacing the tires reduced the bike's weight a full pound to 30.5 pounds. It should also reduce rolling resistance since the new tires can be inflated to over 100 psi.

The bike is in decent shape. It has some rust and scrapes. It looks like it sat outside for at least part of its life. The saddle covering is coming apart. I put some electrical tape on it for now and ordered a $1 cover from China on eBay. I also ordered a $5 light weight plastic saddle on eBay which I may try. The bike has a magnet that holds it together when folded. The metal part that the magnet sticks to is missing, however. I therefore purchased a new off brand magnet assembly from China to fix this. It will take a while to get all of these items. As indicated above I replaced the tires an tubes. I cleaned the bike and cleaned and lubricated the chain. The wheels are true, the brakes are well adjusted and gears shift fine. I took it for a ride around the block and it did fine. The riding position is very upright compared to my road bike and even my hybrid. While some folding bikes have telescoping handlebar stems, this appears to have only one position and cannot be lowered.

I acquired the bike on November 13, 2019 from an ad on Craigslist in the Adams Avenue area of San Diego for free! The guy was very nice. He and his wife had moved from Canada. They have two bikes and did not need this. He got this about a year ago for $50. I missed out on two identical bikes a month or two ago. They went for $150 for the pair which was a good deal. A similar bike is going for $199 with $60 on eBay now. A fellow docent trainee at the San Diego Natural History Museum has a folding Zizzo Liberte bike which he takes on the trolley. That got me interested in folding bikes and I have been looking for one on Craigslist for the past month or two.

Dahon, founded in 1982, is the largest manufacturer of folding bicycles. (Dahon - Wikipedia.) The Dahon site has an interesting discussion about Dahon's history.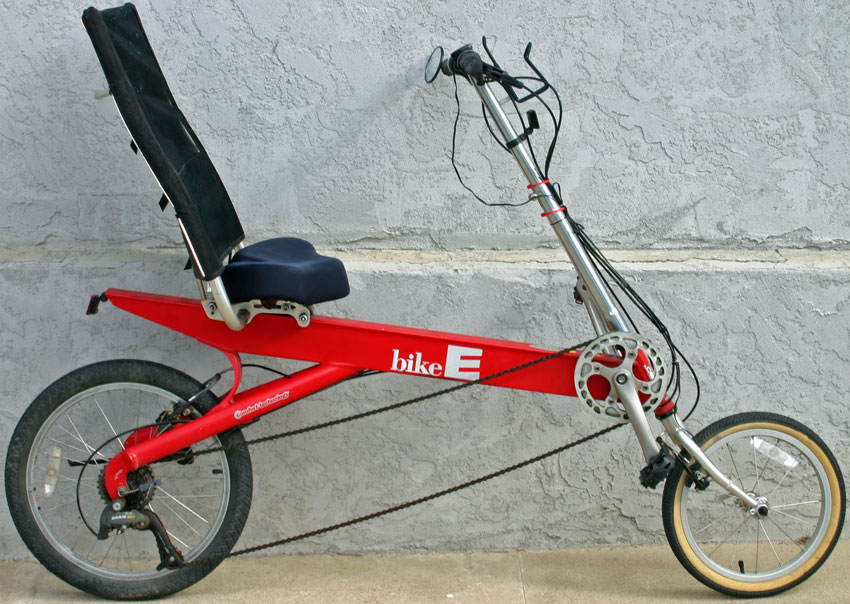 BikeE CT (circa 2001) a recumbent bicycle with an unique Aluminum frame with one large beam of Aluminum. Also unique is a three speed hub combined with a 7 speed derailleur for a combination of 21 speeds. BikeE was formed in 1992 and located in Corvalis, Oregon. My bike was made in Taiwan. From pictures and specifications, it appears to be about a 2000 or 2001 model. (See BikeE Pages - 2000 catalog.) CT models before about 2000 appear to have silver colored rear stays. (See BikeE Pages - 1999 catalog.) While BikeE appeared to be a respected manufacturer with its bikes selling well, it encountered financial difficulties and apparently stopped business after the 2002 models. The BikeE Website before it went out of business is at The BikeE Pages. The specifications for the 2001 CT model are at BikeE Pages - CT Features. The CT stands for "Comfort Technology." The CT was the least expensive model in the BikeE line and designed for recreational use. Some more expensive models had a rear suspension. While an entry level and inexpensive recumbent, selling at under $700 when new, it is relatively light for a recumbent at about 29 pounds and performs well. The design philosophy of BikeE is at The BikeE Pages - BikeE Philosophy. Some BikeE seats were the subject of a recall as explained at Bicyle Man - BikeE Recalls.

Recumbents tend to weigh more than traditional bikes. Their major advantage, however, is that they place the rider lower and more prone resulting in less aerodynamic drag. Aerodynamic drag becomes a major factor against cycling efficiency as speed increases. Speed records are therefore usually set with recumbent bicycles. Rules usually prohibit them in traditional bicycle races. Many people also like recumbents because you can lean back with your back supported resulting in less back and neck strain. Handling is more touchy, however, and takes some getting use to. There are many different designs. The BikeE has more traditional above the seat steering and is fairly easy to ride. Manufacturers tend to be relatively small which unfortunately can result in some like BikeE going out of business.

I purchased my BikeE from an ad in Craigslist on January 28, 2008 in Poway, CA for $100 (asking price was $125). That's about the lowest I've seen for a recumbent. The bike is in good cosmetic and working condition. I appear to be the third owner. The bike was originally purchased at Bicycle Man in Alfred Station, NY, according to the sticker on the bike. That store has a very wide selection of recumbents and excellent information about recumbents on their Web site including information on BikeE, the CT, and the owner's manual in PDF format. The CT styling gets mixed reviews. Some of my students said it looked very old school while a little kid on my first ride said to his mom "look at the neat bike." At $100 it is an excellent way for me to try out recumbent cycling!

.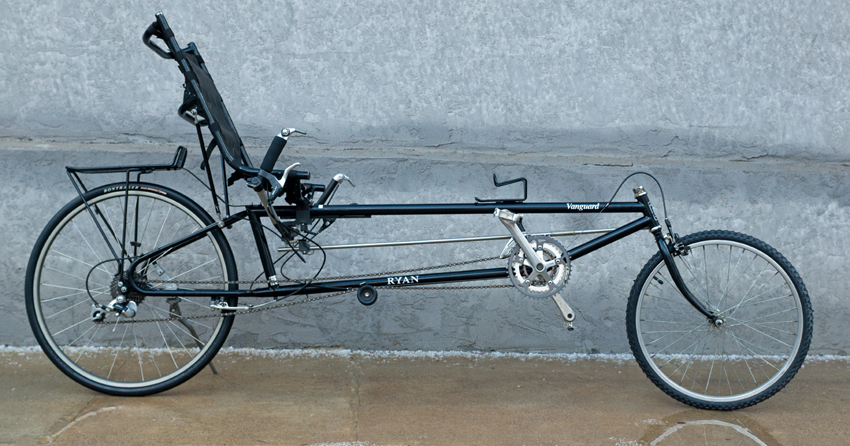 Ryan Vanguard Recumbent (circa 1990s).

My bike was purchased on February 20, 2019 in Oceanside, CA, from an ad on Craigslist for $200. It was listed for $225. The seller purchased it about a 1.5 months earlier for something less, but cleaned it up and put on a new front tire. The bike camed with two front wheels The first was on the bike. It had a large hub which originally housed a broken electric motor. There was a long reach MXB bike caliper brake, clearly not the orginal. I replaced this wheel with what I assume was the original wheel, a Ukai 20 x 1 3/4 alloy wheel made in Japan. I replaced the brake with a Tektro R539 short reach (47-59mm) caliper brake from my Trek Pilot road bike. (I ordered another one to put back on my road bike.) It seems to work well. I don't know what the original front brake was. From photos it looks like some Ryan Vangurads had cantilever brakes and some V brakes both of which would have brazed on pivot points on the fork. Some, like mine, however, had caliper brakes, with no pivot points on the fork. The rear brake is a Dia Compe 737 V-brake. The bike has a tag on it reading "Ryan Recumbent Cycles, One Chestnut Street, Nashau, NH 03060, (603) 598-1711 phone/fax." The bike is missing the "seat horn" which lifts the front center of the web seat up slightly. I'm working on coming up with something to replace it.

.
Introduction (Top) | Road | Hybrid | Mountain | "Racer" | Specialty | Kids
Kids Bikes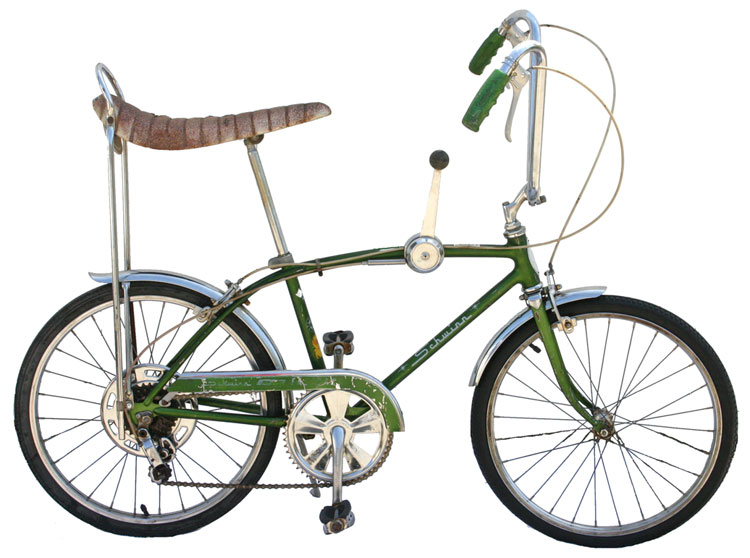 1967 Schwinn Stingray Fastback. (Larger Image.) This is nearly identical to the Schwinn Stingray Fastback which I got when I was in 5th or 6th grade including the same Campus green color. This is a 1967 model. Mine was probably a 1968 model. The Fastbacks and Krate models had a different frame than the original Stingrays. The Fastback models were 5 speeds with a large shift lever mounted on the top tube similar to the stick shift on a car. The 1974 Schwinn Consumer Catalog indicates the top tube shifter was replaced that year with the "New for 1974. Handlebar mounted ratchet-type 5 speed derailleur control for safety and convenience." This was the result of Consumer Product Safety Commission banning the top tube mounted "Stik Shift." (Schwinn Site - Sting-Ray History.) The Fastback was my second Stingray, the first being a green one-speed purchased second hand as can in the black and white photo below.

Stingrays were likely inspired by the Chevy Corvette Stingray and other muscle cars of the 1960s including "fastback" models. The car theme is carried on with the large stick shift lever. The large handle bars and "banana" seat are also reminiscent of chopper motor cycles. The Stingrays thus allowed children to have their own muscle car or motorcycle. Stingrays were designed for tricks like "popping a wheelie." The Stingray largely replaced 24 or 26 inch wheel bicycles for children. Those prior bikes were lously for popping wheelies, but were much better for efficient transportation as explained at the wonderful Sheldon Brown site. Sheldon Brown calls Stingrays and similar bikes "the most horrible children's bikes ever made" and "an unmitigated disaster" which, while successful in the short term, resulted in a "serious long-term setback for the American bicycle industry." In large part the Stingray represents a design based on marketing and it was very successful. Throughout my childhood, Stingrays were all the rage. Schwinns were always the original Stingrays, but the basic design was used by many bike manufacturers. The New England Muscle Bicycle Museum has a huge display of 1960's and 1970's muscle bikes including a green 1967 Fastback in mint condition. By the later 1970s and 1980s Stingrays were replaced by BMX style bikes which continued the small frame and wheels but lost the banana seats and extremely high handlebars.

The Stingrays were all made in Chicago like other Schwinns at the time. Most every part on this bike is made in the USA with the exception of the Belgium Weinmann 810 side pull brakes and the Sprint derailleur made in France. Schwinn made their own frames with a unique "electro-forged process" explained in detail at Chicago Schwinns. This process resulted in very sturdy, although heavy, bikes. Schwinns even included a welded on kick stand. It was so sturdy that my friend and I use to sit on our Stingrays being held up by the kickstands.

Original Stingrays often sell for hundreds on eBay. I assume most are purchased by now middle age baby boomers like me perhaps searching for their lost youth! I purchased this Stingray as a 50th birthday present to myself.

I purchased this Stingray on eBay on 5-14-07 for $206.59 plus $45 shipping. Actual shipping was close to $70. It did not come with a chain. I purchased a chain for about $14 with $10 installation. I replaced the original front tire with a modern 20 x 1 3/8 inch tire which sort of fits but is fairly loose. It cost only $3 at "Ye Olde Bicycle Shop" in San Diego. (That bike shop and coffee shop by the way has a fabulous collection of vintage bicycles dating back to the late 1800s. See Our California Travels, signonsandiego and UCSD Guardian.) A new tube cost $3. The original front tire and tube held air for awhile. It is a Schwinn Fastback Nylon 20 x 1 3/8 to fit S5 or S6 Schwinn Tubular Rim. I saved it, although it is heavily cracked. The tube had been patched twice and there was no rim tape. I purchased some rim tape for about $3. The rear tire is a Schwinn Fastback Slick, 20 x 1 3/8. It is heavily cracked but still holds air. I cleaned up the bike and lubricated all the moving parts. I have not yet overhauled any of the bearings. The bike is in reasonably good cosmetic and working condition now. I rode it around my rather long block with no problems. Most all the parts look to be original. The paint is somewhat faded but is in generally good condition. There is some rust on the wheels, but most of it came off with steel wool. The chrome on the "Mag" chainwheel is beginning to buckle and has come off on a portion of the inner side of the chainwheel. The bike shifts well and needed no adjustment. (See image of drive train.) The shifter lever does not have the "stick shift" label and the 1-5 numbers. The brakes work well. The rear wheel is somewhat out of true, but not bad. The seat is discolored and cracking. Overall, a wonderful addition to the museum!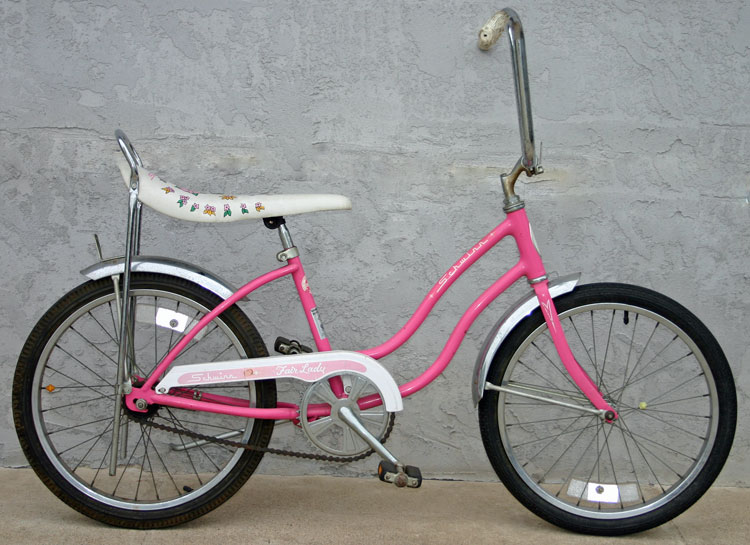 1982 Schwinn Fair Lady. (Larger Image.) The girl's version of the Stingray (officially "Sting-Ray" in the Schwinn Catalogs). Girl's and lady's bikes traditionally had steeply sloping top tubes to apparently accommodate girls and women wearing dresses or skirts. When the Stingray came out in the 1960s that was a good assumption. When I was in elementary school (1962-1969) every girl wore skirts or dresses. I remember when I was in junior high (1969-1971) Fridays were pants days when girls could wear pants. The dress code on other days required skirts or dresses. By high school pants were fine. The other reason for sloping down tubes is that females are typically shorter on average than males. To maintain a given wheel diameter while maintaining sufficient top tube clearance a sloping top tube may be needed. The height difference doesn't necessarily apply to girls and boys, however. Many girls are indeed taller than boys. All this is important because the traditional girl's bike is a poor structural design which is less rigid than a boy's bike. To compensate for this girl's bikes often used heavier tubing which increased the weight. Light weight is one of the most important factors in bicycle design. Today there is little reason for the traditional girl's bike style. Many modern bikes, especially mountain bikes, have slightly sloping down tubes as part of their basic design and accomodate smaller riders. Also, smaller tires such as 26" or 650c can be used for a smaller frame. Also, it is curious why a girl's version of the Stingray was necessary at all. The Stingray had small 20 inch tires with the seat typically raised very high above the top tube. The top tube clearance was therefore already great.

The bike is also illustrative of cultural stereotypes regarding girls. The color is pink. The seat has brightly colored flowers. None of the boy's bike seats ever had flowers. When introduced in 1964 it came with "attractive white flower-trimmed basket for purse or packages." (1964 Schwinn Consumer Catalog page 20.) Searching through the catalogs at the Bob Hufford Site it appears the baskets ended as of 1975. The boy's Sting-Ray never had wicker baskets. The Fair Lady is "beautiful" and "for mother, daughter or even grandmother." The Sting-Ray is not described as beautiful and is not for dad or grandfather.

The Fair Lady was only one of a few female Sting-Ray bikes. The naming and minor styling differences are confusing to say the least. One wonders what the Schwinn marketing staff had in mind. The year following the Fair Lady, the very similar "Slik Chik" came out. The frame seems to be identical and indeed the part numbers are the same. Differences seem to be mainly cosmetic. For example, some years the Slik Chik has white wall tires but sometimes the Fair Lady does. The Slik Chik is described as for girls and the Fair Lady is described as being for mother or daughter. The Slik Chick usually costs slightly more. The Slik Chik or Fair Lady name appears only on the chain guard. The Slik Chik continued only until 1970. The Lil' Chik appeared in 1966 for girls age 5-7. The Lil' Chik name continues throughout the time of the Fair Lady but along the way changes from 16 inch wheels to 20 inch wheels for older girls. In 1969 the Stardust appeared. It is described as a lightweight and has a straight down tube. Otherwise it is similar to the Slik Chik and Fair Lady. It's for mother or daughter but appears to be directed in the photos to the mother. (Apparently a single woman would not ride a Sting-Ray but a mom would.) The Stardust only continued until 1972. The Fair Lady continued until at least 1982, however, when mine was made.

Names are recycled. For example, the "Fair Lady" name was used prior to the Sting-Ray style bikes from at least 1959 to 1961. See Schwinn Heritage and 1961 catalog. The "Slik Chik" name is present again with the 2007 Slik Chik, a 1950's style single speed beach cruiser with balloon tires, steel fenders, one piece crank, large spring seat, and a lot of other metal which seems to defy all the rules for efficient bicycle design! Manufacturer's suggested retail price is $349. In my opinion you would be better off with a recent used mountain bike or hybrid which would also have upright seating and be comfortable. If you want a new bike, the 2007 Schwinn World GS is only $50 more the Slik Chik and has upright seating, front suspension, an Aluminum frame, alloy parts throughout, sealed bearings, V style or linear brakes, fenders, rack, and 24 speeds. The V style brakes should stop much better than a coaster brake. Index shifting today is very easy to use. A hybrid like the Trek 7000 for $279.99 would also be a good bike. It also comes in Trek's trademarked "WSD" (apparently for Woman Specific Design) design with a sort of modern retro girl's bike look, also for $279.99.

My "Fair Lady" was purchased on 7-20-07 at Chula Vista, CA from an ad in Craig's List San Diego for $50. It is in very good condition. There was some minor rust on the rims, handlebars and other unpainted steel parts, but it cleaned up very nicely with steel wool. (The photo is before I cleaned it up.) Mechanically it is sound. It is a one speed with coaster brake. It has the Schwinn Chicago label and I assume was made in Chicago. It is one of the later Schwinn Sting-Ray bikes. The seat is in excellent condition. While the girl's Sting-Ray style bikes tend to go for less than the boy's Sting-Rays, the $50 price seems pretty good comparing it with prices on eBay. I assume an earlier one, especially with a basket, might go for more.
1968 Schwinn Slik Chik. (Larger Image.) The frame, fork, one piece crank, side pull brakes, chainring and rear three speed hub of a 1968 Schwinn Slik Chik. Purchased at a La Mesa, CA garage sale in July 2007 for $40 with a front bmx wheel, a rear bmx wheel with coaster brake (wheel missing some spokes) and a 27 inch alloy rim. The items are in generally good condition. The paint on the frame and fork are bright with some scratches, but not too bad for a near 40 year old bike. My goal is to put it together as a one speed with the bmx wheels and a seat and handle bars off some other bike. Unfortunately the headset and the other parts of the bottom bracket are not included. As indicated above, the Slik Chik was marketed from 1965 to 1970 and is similar to the Fair Lady.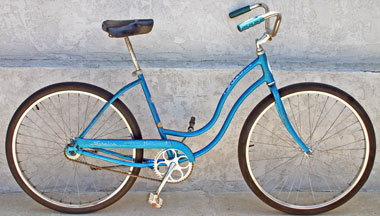 1967 Schwinn Hollywood. (Larger Image.) traditional girl's "cruiser" bike. All steel parts. Single speed with coaster brake. Date is from the serial number code. Description from the 1967 Schwinn Consumer Catalog is at the Bob Hufford Schwinn Lightweight Data Book Site. Price in 1967 was $44.95 for the single speed model with coaster brake. That price seems pretty low but that's equal to $280 in 2007 dollars. It was purchased on 7-25-07 in the Clairemont area of San Diego from an ad in Craig's List for $5. It has significant scratches and chips to the paint. The scratched and chipped areas are rusted. There was also significant rust on the handlebars, rims, cranks, hubs and other steel parts. Much of the rust came off with steel wool, but not all of it. There is some pitting on the handlebars and rims. The tires hold air, but are very worn to the nylon thread, with the tube actually showing through one part of the front tire! The one piece crank appears to be slightly bent and just clears the rear stay. I took apart the bottom bracket and tried to bend the crank without success. The bike still rides. While I had the bottom bracket apart, I cleaned and lubricated the bearings which were very dirty. The bike would have originally come with chromed fenders which are now missing. These "beach cruiser" bikes have come back in full force with many new bikes emulating this style some with one piece cranks, high tensile steel frames, balloon tires and coaster brakes. While an interesting bike for nostalgia, renewing this aged style makes little sense to me. One would be much better off with an aluminum hybrid or hard tail mountain bike, with 21 or more speeds, and V brakes. Such a bike would be much lighter and hence more efficient, have a comfortable relatively upright riding position, have easy to operate gears with index shifting, and stop much faster.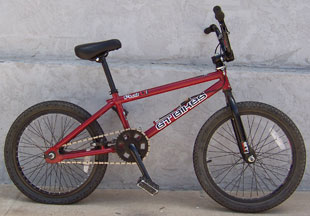 2004 GT Fly BMX Bike, purchased 2004 for younger son. Cr-Mo frame, alloy rims, designed for jumping.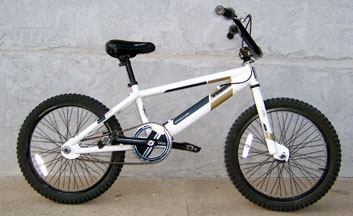 2003 Trek TR-20, purchased used by my younger son. Cr-Mo frame main tubes and fork tubes. For more information, see Trek 2003 Archive Page. I asked my son why he purchased it when he already had a new BMX bike. He said, "Well look at how many bikes you have, and its a Trek." I attempted to argue that all of mine were either old or great deals, but obviously he had a good argument. The acorn does not fall far from the tree.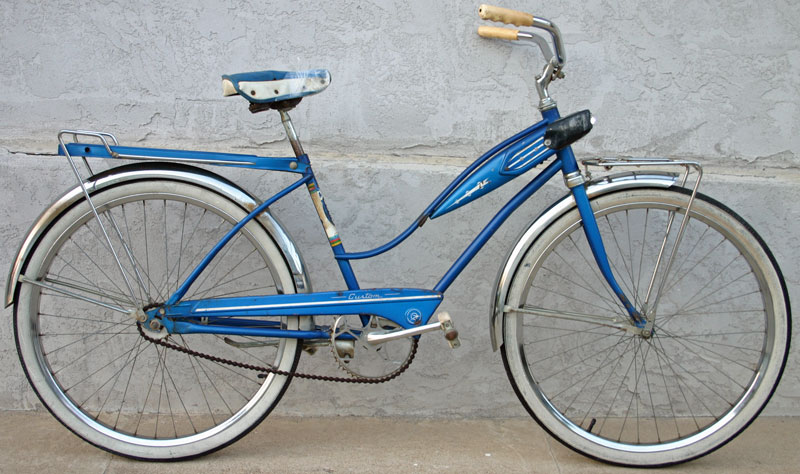 Ross Custom (Large Image - 3/4 view) Believed to be from late 1950 to early 1960s. Seller said he acquired it used in the 1970s and thought it was from the 1950s when he was a boy. Label says made by "Chain Bike Corp." According to Hardy's Back Room - Ross Eurotour, Chain Bike Corporation was formed in 1947 in New York. See also WorthPoint.com, New York Times - 11-17-1953, New York Times - 3-15-2008. A Ross Custom is described just like mine at OldRoads.com - 6-18-03 asking for information about its age, etc. with no definitive reply. Mine appears to be very similar to a 1959 Ross Super Deluxe described at OldRoads.com - Make Name: Ross and the 1962 Ross Super Deluxe in pink at www.bikeicons.com. I'm thinking my bike is therefore probably from the late 1950s to early 1960s. There is also a similar Ross Super Deluxe at Gibbons Shop. The Ross Custom and Super Deluxe also have similarities to the Sears Spaceliner at New England Muscle Bicycle Museum. There also are Ross Super Deluxe bikes of a somewhat different design. See, e.g., ratrodbikes.com and thefedoralounge.com. Serial no. R67262437. 17 inch steel frame. Weighs over 42 pounds. 26" x 1.75" white sidewall tires. Troxel saddle made in Moscow, Tenn USA. Mine was purchased on 7-8-08 in the San Carlos area of San Diego from an ad on Craigslist for $20. It was in pretty good shape for almost being 50 years old. I removed most of the rust on handlebars, rims and front rack with brass wool. After cleaning I also put car polish on it including the chrome parts. The tank part originally had a headlight in it which was missing. A 3 LED headlamp squeezes into the space nicely, however. The light output isn't great, but it adds to the cosmetics and can still be used as head lamp. The tires are original and hold air. They have plenty of tread, but the sidewalls are heavily cracked. It may be hard to fine nice wide replacement whitewalls like the originals. I cleaned and lubricated the chain. The saddle is vinyl over a steel base with a layer of polyfoam. It is coming apart at the seams in many places. I put transparent duct tape around the front section so it would not come apart further. I rode it around our long block. It rides well although is much too small for me. I assume it is probably sized for preteen and early teen girls. With the 26" x 1.7" inch tires it would have been classified as a middle weight bike and is likely similar in age and basic style to the Schwinn my sister had as a girl as can be seen at the bottom of this Web page. In light of that I gave her the bike as a 60th birthday present with the notation on the card: "Feeling young and carefree is like riding a bicycle. You never forget."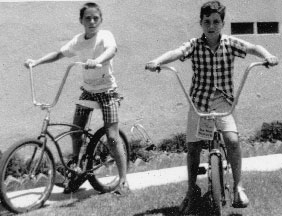 Schwinn Sting Rays, my friend and I on Schwinn Sting Rays in the mid 1960s. Mine was a green one-speed which my father purchased for me used. Later, while I was in sixth grade I got a green 5-speed Sting Ray. Sting Rays were heavy bikes, but were virtually indestructable. They were the precussor to modern day BMX bikes which are really a much better design. Nostaglia is important, however, since vintage Sting Rays sell for several hundred dollars today.
Girl's Schwinn, Early 1960s, my sister on her girl's Schwinn bike, likely from late 50s or early 60s.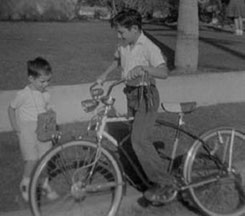 Early 1960s Schwinn, used by my brother for paper route.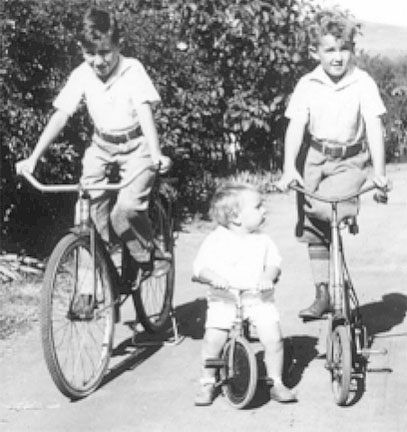 My Dad and His Brothers 1934. Ths is what bicycles looked like in December 1934. My grandparents used this photo for their Christmas cards that year.
Introduction (Top) | Road | Hybrid | Mountain | "Racer" | Specialty | Kids